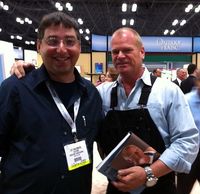 Sorry I have been so absent around here lately… the last few weeks have been intensely busy for me. Here's a quick run-down…with pictures. 
I turned in my 15th, and final, Monk book — MR. MONK GETS EVEN  — to Penguin/Putnam on June 1st, then jetted off to Book Expo America in New York, where I got to hang out with my friends at Amazon Publishing and Brilliance Audio, talk shop with scores of authors (including fellow "Amazon" authors Blake Crouch, Vincent Zandri, Johnny Shaw, Robert Pobi, Deborah Reed, David Hewson, Robert Kroese, etc), and meet Audie-award nominees Patrick Lawlor (the voice behind my book KING CITY) and Luke Daniels (the voice behind the audio version of THE DEAD MAN, THE WALK). (That's me on the convention floor with Mike Holmes, a HGTV celeb that my wife adores)
From New York, I headed to Kentucky, to direct a DEAD MAN music video that I wrote for Amazon to go along with the terrific theme song written & performed by Matt Branham. 
And now I'll digress… on the flight, I was stuck in an aisle seat right next to the toilet…so close, I could have peed into it from my chair.If that wasn't bad enough, a morbidly fat woman sat down next to me and couldn't fit into her seat…so she had to lift up her armrest to spill her blubber onto me. I found myself sitting at an angle, tilted towards the bathroom, which a guy promptly rushed into after take-off to have a gastrointestinal explosion of historic proportions. The fat woman quickly fell asleep…and proceeded to loudly fart her way ac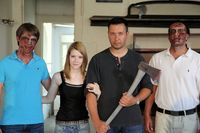 ross the midwest. It was hell.  I didn't know whether to put my earplugs in my nose or my ears. When we finally landed, she asked me how the flight was. I told her we lost two engines but she managed to keep us in the air. She had no idea what I was talking about, but at least I amused myself.
Okay, back to the video. We shot in and around Tell City, Indiana, and at the Hawesville, Kentucky stage of Firelight Entertainment Group, the extremely talented and industrious folks I worked with on my short film Bumsicle. Our DEAD MAN cast included Silvio Wolf Busch and Misty Sisco and we had a blast. (That's Misty and Silvio in the center, between the two monsters. You can see a lot more pictures on the Firelight site and their Facebook page)
The day after wrapping the music video I had to jump into my duties as honorary co-chair of the International Mystery Writers Festival in Owensboro, where I played host to the legendary Firesign Theatre and authors (and now fellow Kentucky Colonels) Max Allan Collins, Barbara Collins, Robert Randisi, Christine Matthews and Libby Hellmann and moderated a panel on writing James Bond novels with Raymond Benson and Jeffrey Deaver.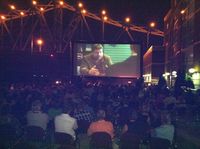 The highlight of the Festival was a night-time, out-door screening of my Owensboro-set short films Remaindered and Bumsicle, which drew over 500 people to Riverpark Center on the banks of the Ohio River. It was fantastic…and I am so glad that the cast and crew of those films, including actors Todd Reynolds, Rick Montgomery, and Eric Altheide, were able to be there to see the enthusiastic audience response. (That's Todd on screen)
As if that wasn't a big enough thrill for me, at the annual Angie Awards ceremony that capped the Festival, my friends at Riverpark Center surprised  me with a portrait by Aaron Kizer, the incredibly talented "speed artist."  It was a wonderful gift and a great honor.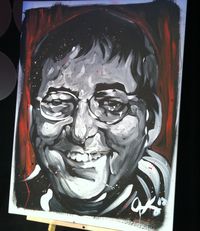 And all of that was just the first three weeks of June.
July has been much slower… at least in terms of travels…since I've mostly been sitting at my desk, working on my book with Janet Evanovich, who flew into L.A. last week to be a guest on The Talk, which gave us a chance to get together for a wonderful dinner.
I'm also in the midst of editing THE DEAD MAN video with Firelight's Rachael Nunn (the footage looks great!) and reading entries in the "You Can Write a DEAD MAN Novel" contest, which ends on August 1st.
In other words, don't be surprised if I don't have a lot of time to contribute to the blog…