Deadline Hollywood reports that a New York court has ruled in favor of Warner Brothers and J.K. Rowling in their lawsuit against RDR books, a publisher attempting to cash in with an unlicensed, unauthorized Harry Potter "lexicon" that drew heavily from Rowling's work. The Judge determined that the book, which he barred from publication, did not qualify as "fair use" and violated her copyright.
J.K. Rowling today issued the following statement: "I took no pleasure
at all in bringing legal action and am delighted that this issue has
been resolved favourably. I went to court to uphold the right of
authors everywhere to protect their own original work. The court has
upheld that right. "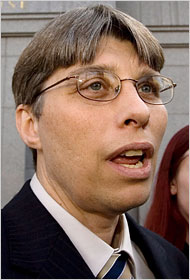 The New York Times reports that Steven Jan Vander Ark , the creepy fan (pictured on the left) who wrote the book, still lives in a dream world. He told the Times that he'd like to have a chat with   Rowling some time:
"I have been a huge fan of
the Harry Potter series and Ms. Rowling for 10 years; that's not going
to change," Mr. Vander Ark said by telephone on Monday from his home in
Brighton, England. "We had a disagreement about the definition of a
particular book. It was a legal disagreement. I would rather that it
wasn't personal."
[…]For now, however, Mr. Vander Ark has his sights on his next Harry
Potter project: his book "In Search of Harry Potter" is scheduled to be
released next month. It is a memoir of his travels to locations similar
to the ones described in the Rowling books.
You might wonder why I think he's creepy…beyond the fact that he tries to look like Harry Potter and actually believes Rowling would want to chat with him. Here's an example from the trial, as reported by the Times.
Like a true fan, Mr. Vander Ark treated even Ms. Rowling's
assertions that he had made mistakes as wonderful revelations rather
than embarrassments.
When [David Hammer, the lawyer for RDR Books] told him that Ms. Rowling
had testified on Monday about the etymology of "Alohomora," an
unlocking spell, Mr. Vander Ark — who had been sequestered during her
testimony — blurted, "Oh, really?"
In her testimony, Ms. Rowling
said Mr. Vander Ark's link between the spell and the Hawaiian "aloha"
was "errant nonsense," explaining that it actually had come from West
African dialect.
"That's exciting stuff for someone like me," Mr.
Vander Ark said from the witness stand. "Did she happen to mention
which dialect?"
Any day now this goof is going to tattoo a lightning bolt to his forehead…if he hasn't already.

UPDATE: A reader reminded me of these examples of Vander Ark's creepiness and cluelessness  from the New Yorker:
Last summer, at a "Harry Potter" convention in Toronto, a fan named
Steve Vander Ark made a similar mistake when he dared to compare
himself to Joanne (J. K.) Rowling. "It is amazing where we have taken
'Harry Potter,' " he said to a crowd of dedicated "Potter" fans. Many
readers dislike the epilogue in the final book; Vander Ark urged them
to disregard it entirely, and even invented his own spell to do so
("expelliepilogus"). "Jo's quit, she's done," he told the audience.
"We're taking over now."
[…]From the witness stand, Vander Ark directed beseeching glances
toward Rowling, who was sitting a few yards away, but she slowly shook
her head. After several hours of intense questioning in front of his
idol, Vander Ark broke down and cried.
"I really wish we had had a different kind of meeting," he said
later. "There were a couple times I kind of gave her a half-smile. She
didn't smile back."
Attracting the attention, and the wrath, of his hero is a surprise for
Vander Ark, who at the age of fifty maintains the air of a serious
child, with a mushroom-cut head of hair parted in the middle. A
self-described "massive 'Star Trek' fan," he wrote a book, in the
nineteen-eighties, called "The Complete Encyclopedia of Star Trek the
Next Generation Season One," and sold forty copies.
That's 40 more than he's going to sell of his Harry Potter Lexicon.