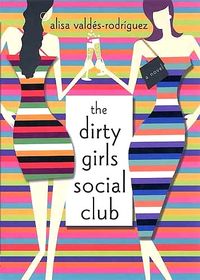 Author Alisa Valdes-Rodriquez is walking away from St. Martin's Press and self-publishing the third book in her hugely successful DIRTY GIRLS SOCIAL CLUB series in both e-book and print formats. She say, in part:
The Dirty Girls Social Club was published through St. Martin's Press and sold more than half a million copies. The second Dirty Girls book, Dirty Girls on Top, also with St. Martin's, came in just under that. When I did the math, I realized I'd only have to sell 100,000 copies on my own to earn what I'd made for six times the sales with a major publishing house. If I sold the same number of Dirty Girls books as I'd sold in the past, meanwhile, I'd be…a goddamned millionaire. A goddamned millionaire in control of her own career and destiny.[…]While I will continue to go with big publishers for my young adult books (I am under contract with Harper Collins for three books right now) I am very curious to see how the Dirty Girls experiment goes for me. I suspect it will go well enough to merit a national tour, which makes me think I should probably start taking pilot lessons now.
I predict her experiment will be a big success…because she's clearly shrewd, determined, enthusiastic and has a strong, pre-existing platform that she worked hard to build. Even if she sells only a tiny percentage of what she did with St. Martins on her first two Dirty Girls books, she will still make a fortune.  But even if it doesn't work out, which I doubt, she's wisely keeping one foot in the professional publishing world with her YA novels. This is one very smart lady.
Valdes-Rodriquez and Terrill Lee Lankford  are just the first in what I am certain will be a wave of professional authors opting to self-publish rather than accept the 25/75 e-royalty split or a pitiful mid-list advance (for which they will be essentially giving up rights to their books forever).