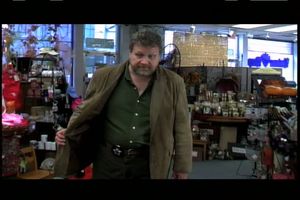 Media critic Bill Peschel had some great things to say about REMAINDERED on his blog today, singling out the performances of Sebrina Siegel and Todd Reynolds for praise.
"Remaindered" is a tight 20-minute tale of a writer, Kevin Dangler (played by Eric Altheide), whose first novel was the peak of his career and his second was, in the words of the book's best review, "a 778-page suicide note for a once-promising writing career." Dangler is reduced to traveling to backwater towns, flogging his third book with signings in grocery stores.

There, he meets Megan, the town librarian with a passion for first editions and those who write them. She's played by Sebrina Siegel, who gets a lot of mileage out of a black bra and a line like "read to me."

Needless to say, their meeting doesn't end well, but I won't say more. It's a neat mystery short-story, complete with a twist ending that loops back to the beginning, and in-jokes mystery fans will appreciate, including a "Monk" reference.

My favorite performances were by Siegel, who played the librarian with the right mix of fannish admiration and seduction, and Todd Reynolds as the detective. He had a small role, but he made it memorable (it didn't hurt that he was given some very sharp lines).

If someone ever decides to retool Alfred Hitchcock's old TV show, "Remaindered" would fit in nicely. It reminded me of one of the mystery story's great pleasures: of following a tightly plotted tale with unexpected plot twists and a satisfying conclusion. It's difficult to pull off, but I'm happy to say that Lee succeeded.
Thanks so much, Bill!