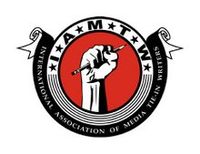 These are tough financial times…and writers, particularly those in the tie-in field, are hurting.
We want to do our small part to help out.
The International Association of Media Tie-in Writers is suspending annual dues for current and new members effective immediately and on through 2012…dues will be re-instated on January 1, 2013.
That doesn't mean we'll be shutting down and riding out the economic storm…quite the opposite.
We'll continue to introduce our members to tie-in editors and licensing execs with our quarterly mailing of member credits and contact info…we'll continue to put out TIED-IN, our newsletter about tie-in writing…we'll continue to give out the Scribe awards for excellence in media tie-in writing…and we'll continue to moderate our highly popular private discussion board for media tie-in professionals.
And over the next month or two, we will also be renovating our website, freshening up our Facebook presence, and adding an audio category to our Scribe Awards.
We hope this will not only help our current members but also draw some new professional tie-in writers into the fold.