Anybody have some good ideas for the title of a MONK book that hasn't already been used already for an episode? 
The next two book titles are MR. MONK AND THE DIRTY COP and MR. MONK IN TROUBLE. But I have no idea what the title of the one after that will be…
I'm open to suggestions!
UPDATE 1-11-2009: I've received dozens and dozens of titles both here and on my Facebook Monk page. Out of all those titles, I've chosen:
MR. MONK IS CLEANED OUT
for the tenth book. I've already come up with a plot (which Monk creator/showrunner Andy Breckman has approved) and will submit it to my editor tomorrow.
I don't want to give away too much…so I'll just say that Mr. Monk goes broke and that his whole life is up-ended as a result.
So Dave, whoever you are, please let me know your last name so I can credit you in the book for coming up with the title.
I want to thank everyone for contributing so many terrific titles…two or three of which I still might use for future books (like MR. MONK GETS EVEN, MR. MONK IN THE RYE, MR. MONK GOES TO WASHINGTON, etc.)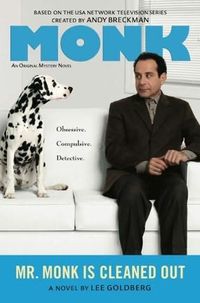 UPDATE 4/29/2010: MR. MONK IS CLEANED OUT will be published in July.
Lee