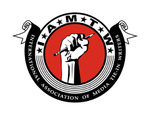 The International Association of Media Tie-In Writers is pleased to announce the nominees for the first annual Scribe Awards, honoring excellence in licensed tie-in writing for books published in 2006.
Our first annual GRANDMASTER AWARD, honoring career achievement in the field, will go to DONALD BAIN, author of the MURDER SHE WROTE novels and the ghostwriter behind COFFEE, TEA OR ME and other bestsellers.
The 2007 Scribe awards will be given out at a ceremony in late July at Comic-Con in San Diego. The details on the event, and how to attend, will be announced in the near future. Congratulations to all our nominees!
SPECULATIVE FICTION
BEST NOVEL – ADAPTED
SLAINE: THE EXILE by Steven Savile
SUPERMAN RETURNS by Marv Wolfman
TOXIC AVENGER: THE NOVEL by Lloyd Kaufman & Adam Jahnke
ULTRAVIOLET by Yvonne Navarro
UNDERWORLD: EVOLUTION by Greg Cox
BEST NOVEL – ORIGINAL
STAR TREK CRUCIBLE: McCOY – PROVENANCE OF SHADOWS by David R. George III
STARGATE ATLANTIS: EXOGENESIS by Elizabeth Christensen & Sonny Whitelaw
THIRTY DAYS OF NIGHT: RUMORS OF THE UNDEAD by Jeff Mariotte & Steve Niles
WARHAMMER: FAITH AND FIRE by James Swallow
WARHAMMER: ORC SLAYER by Nathan Long
GENERAL FICTION
BEST NOVEL – ADAPTED
SNAKES ON A PLANE by Christa Faust
THE PINK PANTHER by Max Allan Collins
BEST NOVEL – ORIGINAL
CSI NEW YORK: BLOOD ON THE SUN by Stuart Kaminsky
LAS VEGAS: HIGH STAKES by Jeff Mariotte
MR. MONK GOES TO HAWAII by Lee Goldberg
OAKDALE CONFIDENTIAL: SECRETS REVEALED by Alina Adams
YOUNG ADULT – ALL GENRES
BEST NOVEL
ALIAS APO: STRATEGIC RESERVE by Christina York
BUFFY THE VAMPIRE SLAYER: PORTAL THROUGH TIME by Alice Henderson
DRAGONLANCE: WARRIOR'S HEART by Stephen Sullivan
KNIGHTS OF THE SILVER DRAGON: PROPHECY OF THE DRAGONS by Matt Forbeck