I've got lots of exciting news to share about the new books and movies that I've written that are coming your way over the next few weeks…
MYSTERY 101 AIRS ON SUNDAY
Set your DVRs! I co-wrote and co-created, with my good friend Robin Bernheim, the mystery movie/TV series pilot MYSTERY 101, which airs on Hallmark Movies & Mysteries on January 27th. If you've enjoyed my work on DIAGNOSIS MURDER and MONK, I think you'll like this movie, which stars Jill Wagner as an English professor who specializes in crime fiction…and applies what she's learned from the great detectives to solve murders herself. You cam learn more about the movie, and see some sneak previews and behind-the-scenes interviews here. If the movie does well in the ratings, you can expect to see more MYSTERY 101 movies later this year.
THRILLING REVIEWS FOR KILLER THRILLER
The reviews have started coming in for my new novel KILLER THRILLER, the sequel to TRUE FICTION, which will be released on February 12th.
"The pleasure here is watching Goldberg mock the thriller form while creating a first-rate one, boiling with chases, fights, sweaty-palm tension, snappy dialogue, and glamorous, exotic locations—this time, post-Maugham Hong Kong and its stunning outdoor escalators. It's really a sophisticated exercise in metafiction: commenting on narrative while creating it." Booklist
It grabs you from page one with brilliant wit, sharply honed suspense, and a huge helping of pure originality." —Jeffery Deaver, #1 New York Times bestselling author
"Goldberg's thrillers are some of the wittiest around, and his newest doesn't disappoint…a meta-thriller that's genuinely heart-pounding but also clever enough to keep you smiling and reading on." Crime Reads
"Killer Thriller by Lee Goldberg is an action-packed treasure filled with intrigue, engaging characters, and exciting, well-rendered locales. With Goldberg's hyper-clever plotting, dialogue, and wit on every page, readers are in for a blast with this one!"—Mark Greaney, #1 New York Times bestselling author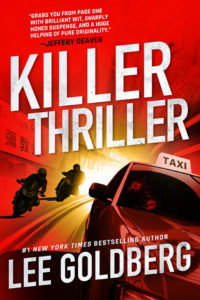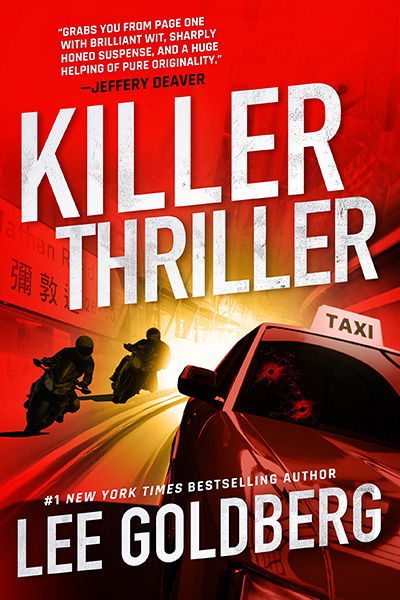 "A solid thriller that moves fast and is tons of fun. It's rare for a sequel to be better than the original, but Lee Goldberg's Killer Thriller takes Ian Ludlow to new heights. Diehard fans of the genre should definitely check this one out." The Real Book Spy
"A delight from start-to-finish, a round-the-world, thrill-a-minute, laser-guided missile of a book." —Joseph Finder, #1 New York Times bestselling author
You can pre-order the book here. [https://www.amazon.com/gp/product/B079L6Q5KS/lg-website-20}
GOODREADS GIVEAWAY
Goodreads is giving away 100 copies of KILLER THRILLER. You can sign up for free here
SIGN UP FOR DISCOUNTS & DEALS
The imminent release of KILLER THRILLER means there will soon be some big discounts and special offers on my "backlist" titles like TRUE FICTON and THE WALK. Don't miss out! Be sure to click "follow" on my Amazon Author page to be alerted to all the upcoming discounts and special offers on my books.
SEE ME ON THE ROAD
I'll be hitting the road to spread the good word about KILLER THRILLER, starting on February 12th. You can find my tour/event schedule here.