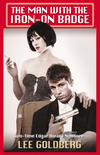 My author's copies of THE MAN WITH THE IRON-ON BADGE arrived today. There is nothing like opening that box and seeing all those copies of your book. Unlike seeing your writing credit on TV, it's a moment that never loses its charge. When you can take that book out of the box and stick it on your shelf, that's when it all becomes real.
To be honest, I had real doubts this day would ever come. There was quite a while there when I wondered if the manuscript was destined to end up in a desk drawer. Even if it had, I couldn't complain too much — in some ways, it's been the most financially lucrative novel I've written. A script I based on it got me the gig to write the DAME EDNA movie. Although the movie wasn't made, I wrote the script and the check cleared.
Now that BADGE has come out, and received the best reviews of my career, I figure everything else is gravy.