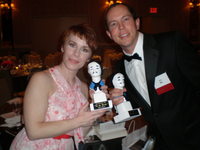 One of the great things about the Edgars, besides meeting so many terrific authors, is all the free books you get when the ceremony is over. I just lugged up to my room two bulging bags of books to send back home. But you don't want to hear about that, you want to hear about the Awards…
Well, as Edgar chair, I've known who the winners are for a while now and I nearly bit off my tongue not leaking the news to Tana French and Susan Straight that they were winners when I met them at the Los Angeles Times Festival of Books last weekend. Also Matt Nix, executive producer of BURN NOTICE, won as well…news that my brother Tod (who is writing the BURN NOTICE books) and my publisher Kristen Weber (who is publishing the BURN NOTICE books) would have loved to have known in advance. That's Tana and Matt in the photo to the left and the Southern California contingent of MWA in the photo to the right…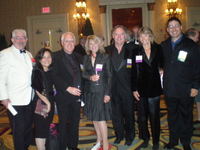 Jim Warren, Naomi Hirahara, Leslie Klinger, Pat Smiley, Doug Lyle, Deborah Atkinson and yours truly.
Al Roker was a funny host, and he even said "fuck" a few times, which is kind of weird to hear coming from him. As a number of people noted, he was like a thinner, blacker, Tod Goldberg. I sat with my agent Gina Maccoby and my publisher, which is always nice, and I did a lot of schmoozing before the event, though I was too tired to hang out in the bar afterwards.
Galleycat's Ron Hogan has posted more pictures from the pre-Edgars reception here.
A complete list of winners follows after the jump.
Mystery
Writers of America is proud to announce its Winners for the 2008 Edgar
Allan Poe Awards, honoring the best in mystery fiction, non-fiction,
television and film published or produced in 2007.
BEST NOVEL
Down River by John Hart (St. Martin's Minotaur)
BEST FIRST NOVEL BY AN AMERICAN AUTHOR
In the Woods by Tana French (Penguin Group – Viking)
BEST PAPERBACK ORIGINAL
Queenpin by Megan Abbott (Simon & Schuster)
BEST FACT CRIME
Reclaiming History: The Assassination of President John F. Kennedy
by Vincent Bugliosi (W.W. Norton and Company
BEST CRITICAL/BIOGRAPHICAL
Arthur Conan Doyle: A Life in Letters
by Jon Lellenberg, Daniel Stashower and Charles Foley (The Penguin Press)
BEST SHORT STORY
"The Golden Gopher ' – Los Angeles Noir by Susan Straight (Akashic Books
BEST JUVENILE
The Night Tourist by Katherine Marsh (Hyperion Books for Young Readers)
BEST YOUNG ADULT
Rat Life by Tedd Arnold (Penguin – Dial Books for Young Readers)
BEST PLAY
Panic by Joseph Goodrich (International Mystery Writers' Festival)
BEST TELEVISION EPISODE TELEPLAY
"Pilot" – Burn Notice, Teleplay by Matt Nix (USA Network/Fox Television Studios)
BEST MOTION PICTURE SCREENPLAY
Michael Clayton, Screenplay by Tony Gilroy (Warner Bros. Pictures)