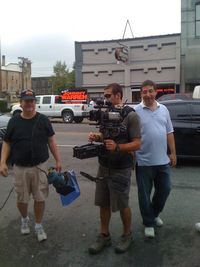 Sorry I haven't had a chance to blog yet…I've been busy directing.  The filming has been going great. I couldn't be more pleased with how things have turned  out.  Everybody has been giving it their best and although it has been hard work, it's been a lot of fun.  We've  even managed to dodge all the thunderstorms…despite the dark clouds that keep rolling in.
Our first day began  at 6 p.m. at Roxi Witt's home, which we essentially invaded (I bet  this is the first, and last, time Roxi ever lets a film crew in her house). The first night jam-packed in all of our most difficult scenes. In fact, when we were planning our shooting schedule, I assumed we wouldn't finish our work and would have to push a good chunk  of it to Saturday, and then  come back to the location at the end of our shoot on Sunday to pick up whatever bits and pieces were left.
But I am pleased to say things didn't turn out that way. We only went an hour over…but we still managed to get all of our scenes. The only thing that had to be pushed were some "Drive Bys" of our protagonist in his car, which would ordinarily be handled by a second unit anyway, but we snagged those last night.
On our second day, we started at  Danhauer Drugs in Owensboro, where the friendly staff was extraordinarily patient and hospitable to us as we re-arranged their store and occupied  most of the available  space. We also got a big assist from Russ Day of the Sheriff's Department, who added considerable "production value" to our little film with his participation.
We were slow starting out Saturday morning. but made up for it as the day went on. We were an  hour ahead going into a company move back to Roxi's house and didn't have to drop a single shot or trim a single scene. Things bogged down a bit at Roxi's, but it was an ambitious day and yet we still managed to complete all of our work. We are going into our final day Sunday with nothing that we need to pick-up.
I am so impressed by the inventiveness  and creativity of the crew, particularly our camera and lighting team (PJ Starks, Adam Tyler and Lewis Chaney). Their can-do attitude and their obvious enthusiasm for film-making is refreshing and pumps everyone up. And there's no way we could have done so much in so little time if not for my assistant director Rachael Nunn… who has been doing an exemplary job despite breaking her arm a few days before shooting. 
And I really, really, REALLY lucked out with the cast. Our three leads — Eric Altheide, Sebrina Siegel, and Todd Reynolds — are just terrific. They have nailed every scene they've been in, making my job so easy and a real pleasure.
We'll have some behind-the-scenes photos to share with you soon…