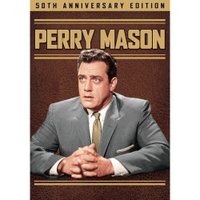 There's no question about it. Paul Brownstein is the best producer of DVD boxed sets in the industry and he's proved it once again with PERRY MASON: THE 50TH ANNIVERSARY EDITION, which includes twelve episodes (featuring future stars like Ryan O'Neal, Robert Redford, James Coburn, and Burt Reynolds) and is loaded with special features that, on their own, are well worth the purchase price. The extras include the original audition/screen tests for Hamilton Burger and Perry Mason, two Charlie Rose interviews with Raymond Burr, and a late 1950s episode of "Person to Person" in which Burr gives viewers a tour of his L.A. home. As if that wasn't enough, they've also got interviews, featurettes, and the "Perry Mason Returns" TV movie. I wish they'd included an episode of THE NEW PERRY MASON, starring Monte Markham, for the hell of it. If you you're a TV geek like me, you're going to love this boxed set. I also strongly recommend Brownstein's amazing GUNSMOKE, DICK VAN DYKE SHOW and WILD WILD WEST sets.
STINGRAY: THE COMPLETE SERIES, the Steve Cannell series that starred Nick Mancuso, arrived in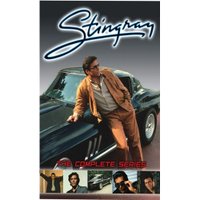 my mailbox today from Amazon in Canada, which sells it for half as much as Amazon stateside ($22 vs $44!). It's a quirky series that I loved when it aired and that is probably not as good as I remember it, but I'll let you know.