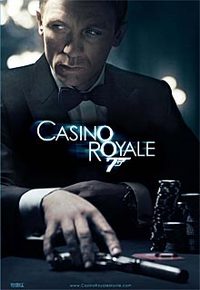 I've got all the Bond movie posters, which I started collecting when I was a kid. I bought most of them from the now-defunct
Cinema Shop in San Francisco and, later, from Hollywood Book & Poster Co. in LA. When I was single, I had them up all over my apartment. But for the last 16 years of marital bliss, the posters have
been relegated to my small office, where I rotate them in, two at-a-time. I
love those posters, many of which feature art by the legendary Robert McGinnis.
Posterwire reports that a NY gallery is hosting an exhibit of Bond posters from mid-May through July. The news of the exhibit coincides with
the release this week of the new trailer and the teaser poster for CASINO ROYALE.