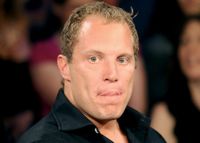 I'm just waiting for one of the networks to do a reality show about the pathetic post-reality show lives of reality show winners & finalists, like SURVIVOR's Richard Hatch (who went to jail for tax evasion), WIFE SWAP's Richard Heene (who allegedly staged the "balloon boy" incident), MEGAN WANTS A MILLIONAIRE's Ryan Jenkins (who murdered his ex-wife), and SURVIVOR's Jenna Lewis (who did a sex tape), to name just a few examples. Now you can add BIG BROTHER winner Adam Jasinksi to the list.  This moron used the $500,000 he won on the show to buy oxycodone pills and resell them.
Adam Jasinski, 31, of Delray Beach, Fla., has been charged with attempting to sell 2,000 pills in Massachusetts to a government witness.
Federal prosecutors said Jasinski was arrested Saturday after he flew to Boston and showed the witness a sock containing two plastic bags filled with oxycodone, a powerful painkiller that is a popular street drug because of its euphoric effects.
As agents tried to arrest Jasinski at a strip mall in North Reading, he struggled and threw the sock under a car parked nearby, Todd Prough, a special agent with the Drug Enforcement Administration, said in an affidavit filed in court.
Jasinski won $500,000 last year on the CBS reality show in which contestants live under constant surveillance and vote once a week to evict each other in hopes of becoming the last houseguest standing and winning the grand prize.
Prough said in the affidavit that Jasinski told him that he has been using his winnings to buy thousands of oxycodone pills and has been reselling them along the East Coast for the past several months.
Jasinski's lawyer, Valerie Carter, did not immediately return a call Tuesday.
He faces a maximum of 20 years in prison and a $1 million fine on a charge of possession of oxycodone pills with intent to distribute.