The second month of my Kindle experiment has ended and here are the results:


(Click on the image for a larger view).
All told, I made $375 in royalties selling three out-of-print novels at $1.99 each, a short story collection at 99 cents, and an out-of-print, non-fiction reference book for $2.39 .

THE WALK sold 444 copies in June and 373 copies in July. My short story collection THREE WAYS TO DIE sold 54 copies in June and 40 in July. So sales of both titles have dropped in their second month on sale. 
Still, I'm very happy to have sold 817 copies of THE WALK to readers who missed the book the first time around in hardcover. At this rate, it won't be long until I've sold more copies of THE WALK on the Kindle than the book sold in print.
On July 14, I added my novel MY GUN HAS BULLETS to the Kindle Store. It has sold 95 copies in 17 days at $1.99 each, earning me $65 in royalties. On July 17, I added the sequel, BEYOND THE BEYOND, which has only sold 29 copies at the same price, earning me $20. 
Two days ago, I added TELEVISION SERIES REVIVALS. I set the price for that one at $2.39, just to be daring. It has sold 17 copies so far, earning me $14.28.
(All those titles are also available on Scribd and Smashwords, but so far I've earned less than $10 in combined royalties from both sites over the last two months. They can't compete with Amazon and the Kindle).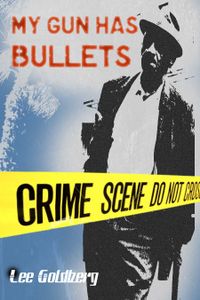 This month I did slightly better than last month, but I also added three more books to the mix. 
So far, I have earned nearly $700 on out-of-print books that I thought were long past their earning potential for me. That's not a lot of money, but it was enough to buy me a Kindle and leave plenty of money left over to buy books for it (I'm still not earning anywhere near what Joe Konrath and John August, my inspirations in this endeavor, are making with their work…but I am thankful to them both for showing me the way). 
I've said this before, but I don't think the Kindle is the wave of the future for authors or publishing…at least not yet. Not even for self-publishing. There just isn't enough money in it for original works to make a living at it or simply a decent wage.
But not all authors care about making money. Some are in it "for the art" and just to reach people. They are happy giving it away for free…or for next to nothing. Well, let me tell you something, the "free" and $1.99 Kindle books that I have sampled so far have been, for the most part, unspeakably horrendous shit. There's a reason most of these authors can't find publishers for their work. It's stuff so awful you can't even give it away. The Kindle won't change that. The novelty of downloading crap, even when it's free, will pass quickly.
I do think, though, that for authors with out-of-print books sitting in their drawers earning nothing but dust that publishing on the Kindles makes a lot of sense. I don't see the downside. It's found money. And it's fun to watch the royalties and sales click up in real-time (yes, it's a new way to procrastinate!)
I was surprised to discover, once I got my Kindle, that my out-of-print books that I posted myself are better formatted than some of my in-print titles posted by my publishers. I will be talking to my publishers about it.