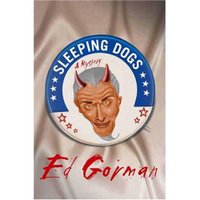 SLEEPING DOGS by Ed Gorman proves the old adage that you can't tell a book by it's cover. He has been stuck with the ugliest St. Martin's cover since my book, BEYOND THE BEYOND. It's a damn shame, because his book deserves more thoughtful packaging– a LOT more. It's a biting, fast-moving, darkly funny mystery set inside a Senatorial campaign. The hero is Dev Conrad, a political consultant who knows how to play the game and is growing increasingly uncomfortable with the lies, hypocrisy, and self-delusion inherent in his job.
Ed not only gives us an inside look at the dark side of campaigning, he also offers a good puzzle, too, where the "bad guys" are fully fleshed-out characters who aren't that much different than the "good guys." And after countless books about tortured cops, PIs and forensic scientists…not to mention an endless number of amateur sleuths…Dev Conrad is a fresh, unconventional protagonist. The timing for this book couldn't be better…but, based on the cover treatment, I fear the publisher isn't in a position to take advantage of the opportunity.
As an aside, I am awed by Ed's versatility…he writes westerns, whodunits, thrillers, procedurals and now political novels…all with equal skill. I wish I was that flexible.