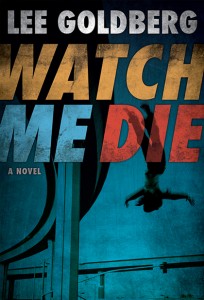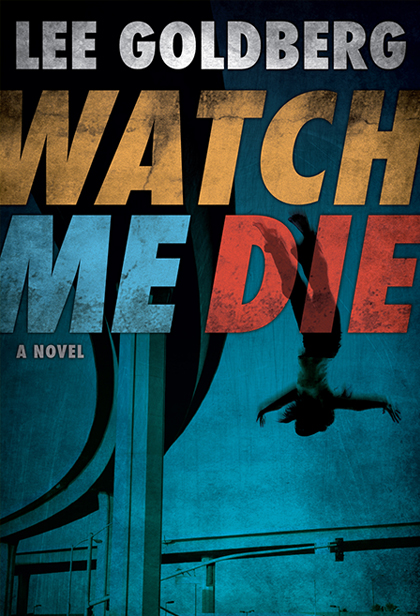 "As dark and twisted as anything Hammett or Chandler ever dreamed up….leaving Travis McGee in the dust." Kirkus, Starred Review
"Approaching the level of Lawrence Block is no mean feat, but Goldberg succeeds with this engaging PI novel." Publishers Weekly
"A wonderfully fresh voice in the mystery genre, Goldberg will delight fans of Janet Evanovich and Robert Crais." Rick Riordan, author of Percy Jackson & the Olympians
"Lee Goldberg bravely marches into territory already staked out by some fierce competition–Donald Westlake, Lawrence Block, the early Harlan Coben–and comes out virtually unscathed." The Chicago Tribune
"Goldberg has a knack for combining just the right amount of humor and realism with his obvious love for the PI genre and his own smart ass sensibilities. A terrific read. Goldberg is the real deal and should be on everyone's must read list." Crimespree Magazine
Harvey Mapes is a twenty-nine-year-old security guard who spends his nights in a guard shack outside a gated community in Southern California, reading detective novels, watching TVLand reruns, and waiting for his life to finally start…which happens when Cyril Parkus, one of the wealthy residents, asks Harvey to follow his beautiful wife Lauren.
The lowly security guard jumps at the opportunity to fulfill his private eye fantasies and use everything he's learned from Spenser, Magnum, and Mannix. But things don't exactly go according to the books…or the reruns. As Harvey fumbles and stumbles through his first investigation, he discovers that the differences between fiction and reality can be deadly. With the help of his mortgage-broker neighbor and occasional lover Carol, Harvey uncovers a blackmail plot that takes a sudden and unexpectedly tragic turn…plunging him into a world of violence, deception, and murder…and forcing him to discover what it really takes to be a private eye.
CHAPTER ONE
I don't know if you've ever read John D. MacDonald's Travis McGee books before. McGee is sort of a private eye who lives in Florida on a houseboat he won in a poker game. While solving mysteries, he helps a lot of ladies in distress. The way he helps them is by fucking their brains out and letting them cook his meals, do his laundry, and scrub the deck of his boat for a few weeks. These women, McGee calls them "wounded birds," are always very grateful that he does this for them.
To me, that's a perfect world.
I wanted his life.
This is the story of what I did to get it.
My name is Harvey Mapes. I'm twenty-nine years old, six feet tall, and I'm in fair shape. I suppose I'd be better-looking if I exercised and stopped eating fast-food three times a day, but I won't, so I won't.
I'm a security guard. My job is to sit in a little, Mediterranean-style stucco shack from midnight until eight a.m. six days a week, outside the fountains and gates of Bel Vista Estates, a private community of million-dollar-plus homes in the Spanish Hills area of Camarillo, California.
The homes at Bel Vista Estates are built on a hillside above the farms of Pleasant Valley, the Ventura Freeway, and a really great outlet mall, about a quarter of the way between Los Angeles and Santa Barbara. I say that so you can appreciate the kind of drive to work I have to make each night from my one-bedroom apartment in Northridge.
There are worse jobs.
Most of the time, I just sit there looking at my black and white monitor, which is split into quarters and shows me three different views of the gate and a wide angle of an intersection up the hill inside the community. I'm supposed to watch the intersection to see if people run the stop sign, and if they do, I'm supposed to write them a "courtesy ticket" when they come through the gate.
I'd like to meet the asshole who came up with that.
It's no courtesy to give one, and the folks who live here certainly don't think it's a courtesy to take one. Most of the time, they don't even stop to get it from me; they just laugh or flip me off or ignore me altogether.
And why shouldn't they? It's not like I'm going to chase them down to the freeway or put a lien on their homes.
Enforcement really isn't my job anyway. I'm there to give the illusion of security. I don't have a gun, a badge, or even a working stapler. If there's any real trouble, which there never is, I'm supposed to call my supervisor and he'll send a car out.
The guys in the car, guys so inept and violent the police department wouldn't hire them, are the "armed response team" the company advertises. If I were a resident, I'd feel safer taking my chances with the robber, rapist, or ax murderer.
I'm just the guy in the shack. The one who either waves you through and opens the gate, or stops you to see if you've got a pass. If you do, or if I get the homeowner on the phone and he says you're okay, then I jot your name and license number in my ledger, open the gate, and return to my reading.
I do a lot of reading, which is the one big perk of the job and, truthfully, the reason I took it in the first place, back when I was going to community college. Mostly I read paperback mysteries now, cheap stuff I get at used bookstores, and it's probably why I was so susceptible to his offer when it came.
I guess on some level I wanted to be like the tough, self-assured, no-problem-getting-laid guys I read about. I conveniently forgot that in a typical book, those guys usually sustain at least one concussion, get shot at several times, and see a lot of people die.
It was after midnight, but still early enough that I hadn't settled into a book yet, when Cyril Parkus drove up in his white Jaguar XJ8, the one with a forest of wood and a herd's worth of leather inside, and instead of going through the resident lane to wait for me to open the gate, he drove right up to my window.
We're supposed to stand up when they do that, almost at attention, like we're soldiers or something, so I did. The people who live at Bel Vista Estates are quick to report you for the slightest infraction, especially one that might imply you aren't acknowledging their greatness, wealth, and power.
Even just sitting in that car, Parkus exuded the kind of laid-back, relaxed charm that says to me: look how easy-going I am, it's because I'm rich and damn happy about it. He was in his mid-thirties, the kind of tanned, well-built, tennis-playing guy who subscribes to Esquire because he sees himself in every advertisement and it makes him feel good.
In other words, he was the complete opposite of me.
I'd see him leave for work every morning around six thirty or seven a.m., and it wasn't unusual for me to see him coming home so late. But he rarely stopped to talk to me, unless it was to leave a pass or get a package from me that his wife hadn't picked up during the previous shift. I'd only seen his wife, Lauren Parkus, once or twice, and when I did, it was late and she was in the passenger seat of his car, her face hidden in the shadows as he sped by.
"Good evening, Mr. Parkus," I said, adopting the cheerful, respectful, and totally false tone of voice I used with all the residents.
"How are you, Harvey?"
I caught him glancing at my nameplate as he spoke. Each guard slides his nameplate into a slot on the door at the start of his shift for exactly this reason. You can't expect the residents to remember, or care about, the name of the guy in the shack.
"Fine, sir," I replied. "What can I do for you?"
He smiled warmly at me, a smile as false as my cheerful respect and admiration.
"Could I ask you a couple of questions about your work, Harvey?"
"Of course, sir."
I figured there must be a complaint coming, and this was just his wind-up. In the back of my mind, I tried to guess what I could have done to piss him or his wife off, but I knew there wasn't anything.
"What are your hours?" Parkus asked.
I told him. He nodded.
"And then what do you do?" he asked.
That question had nothing to do with work, and I was tempted to tell him it was none of his fucking business, but I wanted to keep my job, and it wasn't like there was anything in my life worth keeping private. Besides, I was curious where all this was going and how I was going to get screwed in the end. At that moment, I had no way of knowing just how bad it would be or how many people would get killed along the way.
"I usually grab something to eat at Denny's, since they serve a decent dinner any time and have good prices, and then I go home."
"You go right to sleep?"
"No, sir, I like to sit by the pool if it's sunny, swim a couple of laps, maybe go to a movie or something. Then I go to bed around three in the afternoon, wake up around nine or ten, have some breakfast, and come back here for another day of work."
"So, you only work this one job and don't go to school or anything."
"That's right, sir."
Parkus nodded, satisfied. Apparently, I told him what he wanted to hear. I confirmed that I was a complete loser and that yes, his life was a lot better than mine.
"Could I meet you at Denny's in the morning and buy you dinner?" he asked. "I'd like to talk over a business proposition with you."
"Sure," I said, too stunned to say anything more.
He drove up to the gate and waited for me to open it. I hit the button, the gate rolled open, and I watched him drive up the hill, wondering what he could possibly want from me.
I kept watching him on the monitor. I couldn't do that with most residents, but Parkus happened to live on one of the corners of the intersection that I'm supposed to watch for those "courtesy tickets," so technically, I wasn't spying, I was just doing my job.
Cyril Parkus lived in a huge, Spanish-style house that had two detached garages out front and a couple of stone lions on either side of the driveway, each with one stone paw resting on a stone ball. I've never understood the point of those lion statues, or why rich people think it's classy to have them. I've thought about buying one and sticking it in front of my apartment door, just to see how my life changes, but I don't know what they're called or where you find them and I probably couldn't afford one anyway.
Once he went inside his house, the excitement was over and I was in for a long, restless night, waiting for daybreak, unaware that with the sunrise, my life would change completely.