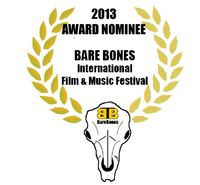 We've had a flurry of festival acceptances this week for Bumsicle...and we learned that we've been nominated for Best Dramatic Short by the Bare Bones International Film Festival. The attention we're getting from all of these festivals is a real thrill for me and the entire cast & crew.
Here's the tally of festival picks so far… 
White Sands International Film Festival, Las Cruces, New Mexico – August 2012
Louisville's International Festival of Film, Louisville, Kentucky – October 2012
River City Festival of Film, Owensboro, Kentucky – November 2012
Trail Dance Film Festival, Duncan, Oklahoma – January 25-26, 2013
Bare Bones International Film & Music Festival, Muskogee, Oklahoma – April 4-14, 2013
Selected as Nominee for Best Dramatic Short Film
Myrtle Beach International Film Festival, Myrtle Beach, South Carolina – April 24-27, 2013
Cape Fear Independent Film Festival, Wilmington, North Carolina – May 9-12, 2013
Big Island Film Festival, Hawaii – May 23-27, 2013
…and, we hope, more to come!