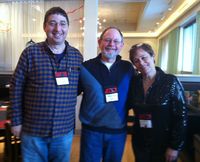 I spent last weekend as a special guest at the Love is Murder conference in chilly Chicago and I had a terrific time.
It's probably the smallest mystery conference I've ever been too and, reflecting the huge popularity of self-publishing, there seemed to be more authors than readers in attendance. In fact, there were two big "group" signings over the weekend and there were so many "authors" sitting behind tables that there were maybe three actual "readers" left standing to buy books. I've signed more books at funerals.
But the small number of attendees also made the conference more intimate, and I had a lot of opportunities to talk shop with authors like William Kent Krueger, Bob Mayer, Blake Crouch, Joe Konrath, Ann Voss Petersen, F. Paul Wilson, Robert Goldsborough, Jamie Freveletti, Libby Fischer Hellmann, Sparkle Abbey, Hannah Dennison and Raymond Benson, to name just a few (that's me with Kent and Libby in the picture). We spent a lot of time trying to figure out where the publishing business is going, though we didn't manage to come up with the answer. But we agreed that it's a great time to be an author.
I was treated by Joe Konrath to the worst hamburger I've ever had in my life. It was from White Castle. Joe, his wife, and F. Paul Walker went wild over those burgers. I sent mine to a forensic lab for analysis and am awaiting the results. I'm curious to know what that very thin, oddly-colored patty was actually made of. When Joe comes to Los Angeles, I'm going to take him to In-and-Out or The Habit so he can see what a real hamburger tastes like.
I was a guest on many lively and fun panels, including one on writing characters created by others. My fellow panelists were Robert Goldsborough, who talked about picking up Nero Wolfe where Rex Stout left off, and two strange women who wore matching shirts covered with their bookcovers and talked about revising an unfinished manuscript written by a dead guy…with help from his ghost. I kid you not.
One of the women said her first novel came to her in a dream. She encountered Bugs Bunny on a spirit path, he opened his skull, and there was her book, cover and all, inside his head. She read the book, woke up, then ran downstairs to make notes and describe the cover. She then fleshed the story out with the help of her friend's dead father's ghost. Or something like that. Their process was so confusing, and there were so many ghosts and cartoon characters involved in their writing, that it was hard to follow. They also read aloud from their book, which was a real treat.
On Sunday, Libby took me on a tour of Chicago, and one of our stops was the Sears Tower,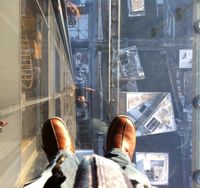 where I discovered that I have a slight fear of heights…it revealed itself to me when I stepped out on the "skydeck" that is basically a piece of plastic hanging out over the street where a normal window is supposed to be. I couldn't help thinking I'd be the one who finally fell through…and for what? A photograph. Libby was very amused by my discomfort.
Afterwards, we met with Jamie Freveletti for some deep dish pizza and shop talk, which I really enjoyed. I realized that one of the things I miss most about being on a TV show is all the time spent in the writers room, working with other writers. Now that I'm primarily a novelist, my writer's room is me and my dog, who doesn't contribute much when it comes to breaking stories.
I flew home on Monday. On the plane, a young woman fell asleep and snuggled up against me. That's not the first time that's happened. I must have a very comfy shoulder. After about an hour, I moved a bit and woke her up. She was startled an mortified, not so much because she discovered that she was clutching me, but because the first thing she saw was a graphic, brutal sex scene from Game of Thrones on my iPad. If the plane wasn't full, I think she would have switched seats.
All in all, a very pleasant trip. Next week, I am off to Florida for a photo shoot for The Heist, the book I wrote with Janet Evanovich.