Two short-lived, NY-based crime shows have finally come out on DVD…and they are both gems.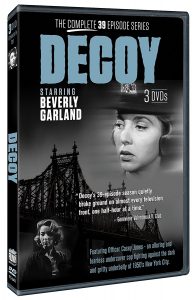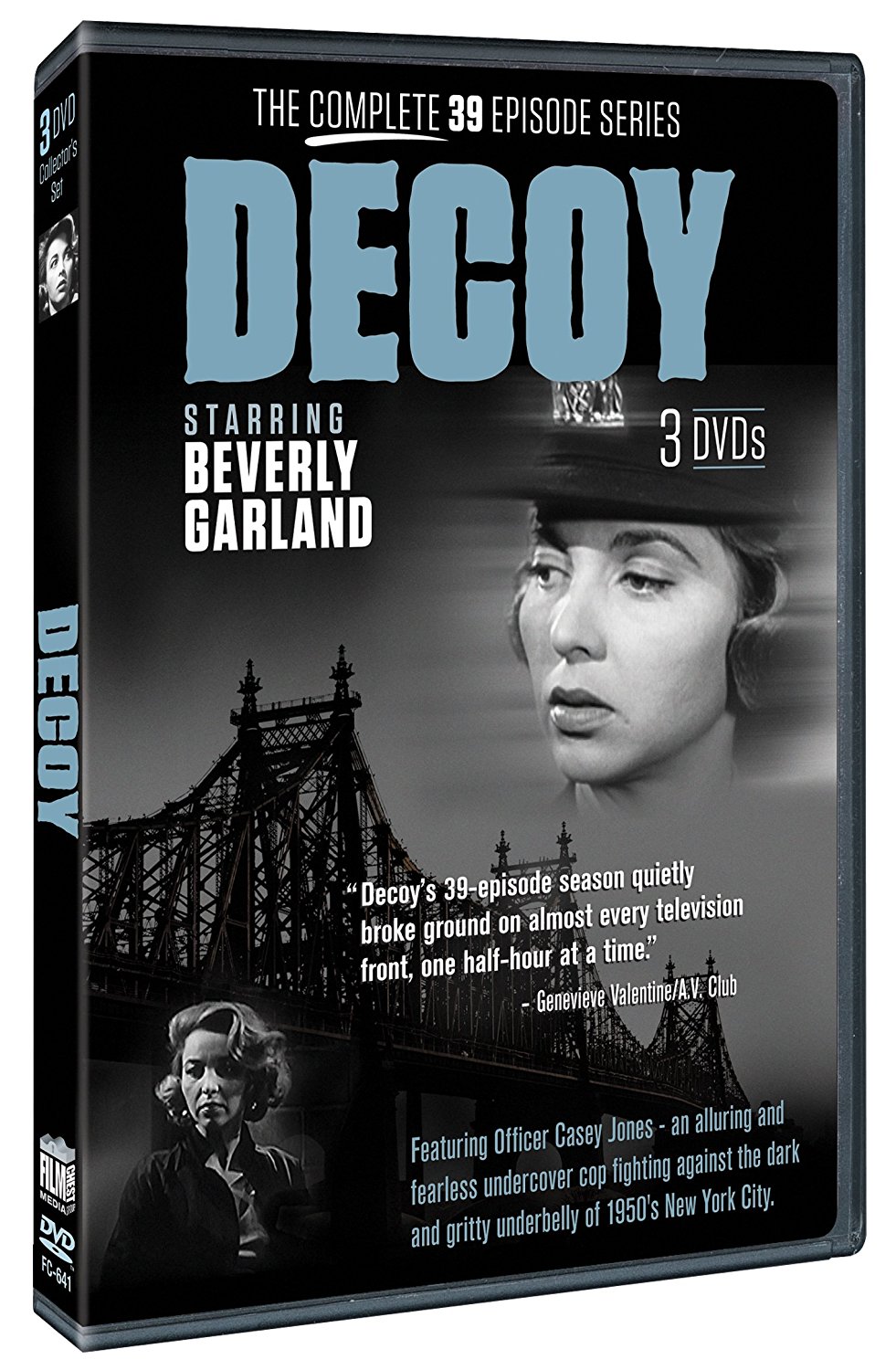 DECOY stars Beverly Garland as police woman Casey Jones and was the first TV series to shoot on location in New York. It was also the first series to feature a police woman in the lead role. All 39 episodes from its brief, 1958 run are included in this boxed set, which also comes with a nicely detailed brochure of synopses, brief episodic credits, and some interesting background on the series — one I have to admit I wasn't familiar with at all. I've always been a fan of Beverly Garland, and was fortunate to work with her on the "Mannix" episode of DIAGNOSIS MURDER, but I'd never seen this series before. I'm glad I took the gamble and bought the DVD set. Think of DECOY as a grittier DRAGNET…but with a female star. The series is straight-forward, ripped from the case files, police procedural storytelling. But unlike DRAGNET, Garland manages to give her character an emotional life beneath the action and dialogue purely through her facial expressions, dialogue delivery, and body language. Her acting strengths, some sharp writing, and the consistently excellent NY location shooting make this a dandy piece of TV crime noir well worth your time. I'd argue it's actually a far more realistic and interesting series than POLICE WOMAN, which came decades later. You'll also see early guest appearances from future stars Peter Falk, Suzanne Pleshette, Martin Balsam, Diane Ladd and Larry Hagman.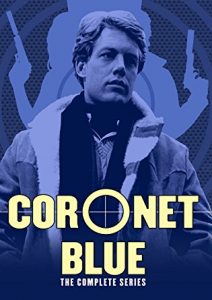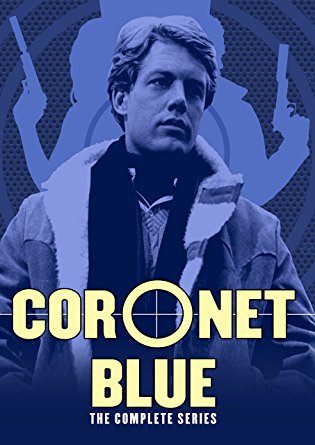 CORONET BLUE is primarily remembered for its cool theme song…if its remembered all. Which I guess is fitting, given what the show was about. Frank Converse stars as a guy who is shot, thrown in the Hudson river, and left for dead. He survives, but can't remember anything about his past except the words "Coronet Blue." The 13 episodes followed his efforts to discover who he is and, as is customary in series like this,  help other people in trouble along the way. This boxed set lives up to my memory of the show…pun intended. The theme song and score are great, the writing is strong, the location shooting is excellent, and the casting is top-notch.  It's a real time capsule of talent — lots of future writing, acting, and directing stars worked on this series including Roy Scheider, Jon Voight, Candice Bergen, Billy Dee Williams, Albert Ruben (writer of KOJAK, etc), Lamont Johnson (director of EXECUTION OF PRIVATE SLOVIK, etc), Alvin Sargent (writer of PAPER MOON, SPIDERMAN 1, 2, 3 etc) . The prints are good and the DVD has one extra, an on-camera interview with creator Larry Cohen, who is perhaps best known for creating BRANDED and THE INVADERS…and directing IT'S ALIVE.  It was nice to have the interview  — I just wish he'd gone into more depth. It's also a shame that they didn't interview some of the other surviving actors, writers, directors who worked on the series. Even so, that's a minor quibble. This is a terrific boxed set, one I have been waiting on for years.