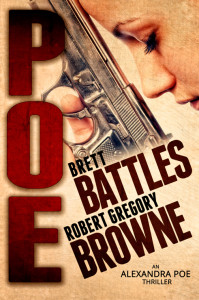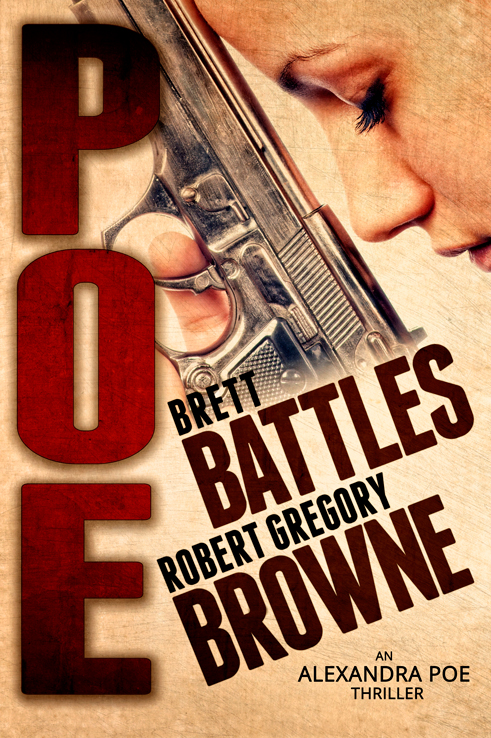 Authors Brett Battles and Robert Gregory Browne have been friends for years. They are among the savviest authors I know and both have enjoyed considerable success and critical acclaim with their thrillers (Rob's novel KISS HER GOODBYE was even adapted as a pilot for CBS starring Dylan Walsh).  Now they have ventured into self-publishing, on their own and in joint ventures, and they are both doing extraordinarily well. They have a new co-authored book out (POE) and two new individual titles (NEGLIGENCE by Rob and THE ENRAGED by Brett), so I thought this was the perfect time to catch up with them.
Brett, you are perhaps best known for your QUINN series. Were you worried about your Quinn fans finding your new, self-published books after you left your publisher?
B: Honestly, I was more worried about ANYONE finding my new books. I jumped in to this area 2 1/2 years ago, and while there were success stories then, I had no idea if it would even work or, if it did, last. I didn't start of putting out new Quinn novels though. Started with some other, new series I'd been working on, and a couple Quinn short stories. About five months into it, I did put out my Quinn prequel novel,
BECOMING QUINN
, which really took off and told me the fans were still there.
How has your life changed since you made the move? How has it impacted the Quinn series?
B: I'm my own boss now, and I prefer that! I actually am a tougher boss than my old publisher as I demand many more finished novels a year than they did. I've always been a fast writer, even when I was traditionally published. It's just then I ended up having a lot of down time because they only wanted one book a year. Now, I write at least four novels a year, and even try to squeeze in a short or two, or even a novella. In other words, I don't allow myself to just sit around. My business is writing. If I were in construction or clothing or financial advice or whatever I'd be working everyday, so I feel I should be doing that with writing. So that kind of answers your second part. Instead of One Quinn novel a year, in the past 18 months I've release 3. More satisfying for the fans as they don't have to wait as long.
Robert, you have been friends with Brett for years. I hear he had to drag you kicking and screaming into self-publishing. 
R: Ah, yes. When most of my friends were jumping into self-publishing, I had just finished a book for Penguin that was due to come out in hardcover. Plus, I was writing books under a pen name for a traditional publisher. So I was very much part of the "establishment" at the time. I had high hopes for the hardcover, but that was around the time ebooks were having a huge surge in popularity and hardcovers were dying, so the writing was pretty much on the wall. I saw all the success that Brett and others were having with their self-pubbed work and after the hardcover didn't sell as well as I hoped (no surprise), I decided it was time to take the leap.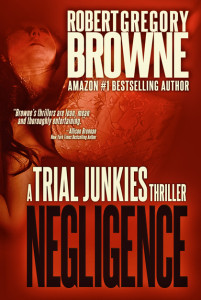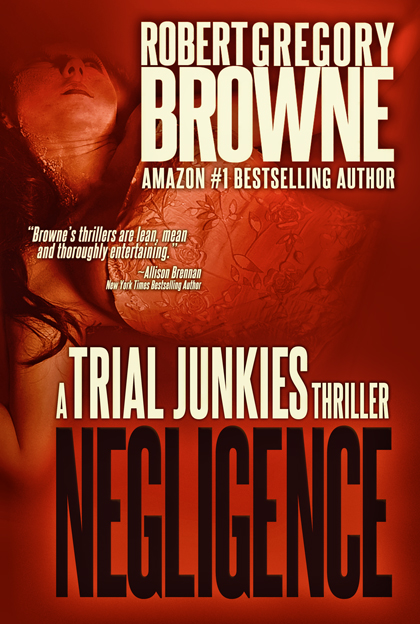 You had a huge hit with TRIAL JUNKIES. That must have been a stunning, and very welcome, surprise. What was the secret to the successful launch (so we can all steal it for ourselves, ofcourse)?
R: Yeah, that came completely out of left field. I had been told that self-publishing is slow going at first, that you have to give it time to build your audience, that not all of your "traditional" readers will embrace the technology, so to see TRIAL JUNKIES suddenly take off right out of the gate was a pretty amazing experience. Two weeks after it was out I had already sold 20,000 copies and it was still going strong. A month later, it was STILL going strong. Now, a year later, it just hit the Amazon Top 50 and went to #1 in Legal Thrillers again. It's the book that won't quit.
As for the secret, there really isn't one. A week after it was published, I did a three-day free promo, got 46,000 downloads and the bounce when it went back to paid was incredible.
You mentioned that TRIAL JUNKIES benefited from the post-free bounce. Do the free promos still have the same mojo? From what I can tell, they don't. 
At the time
TRIAL JUNKIES
was released, I was told that the free promos didn't work as well as they once did, but it worked wonderfully for that book. But a year later, I think some of the luster has definitely worn off. I recently did a 99 cent promo for
TRIAL JUNKIES
that helped put it back in the Top 50, but as of this writing, I'm not sure what kind of post-sale bounce it will get, or how it will effect the sequel,
NEGLIGENCE
.
I've been sticking with
KDP Select
largely because of the Prime library borrows, which bring me more income than Barnes & Noble or Kobo ever did. I think, however, that we may be getting to the point where we'll have to be shelling out a little more money for advertising on newsletters like Bookbub, which seem to be very effective.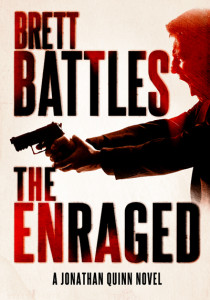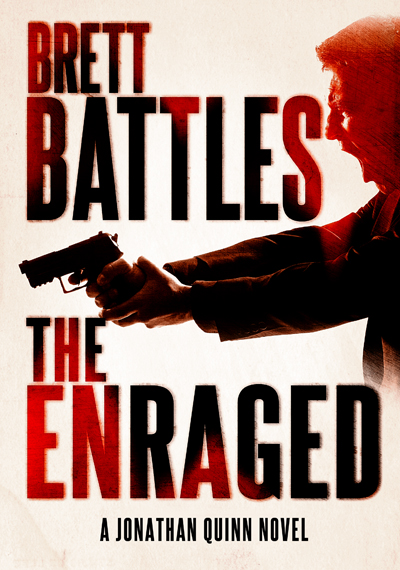 You were leery about self-publishing, Rob…but now you're into it in a big way. You're even designing your own covers. What made you decide to take such a hands-on approach? And do you enjoy it?
R: Actually, self-publishing was made for someone like me. My pre-author work involved video production and design, so it was only natural for me to utilize those skills. I really enjoy doing covers—I've done several for other authors as well—because it's a different outlet that lets me stretch a another set of creative muscles.
You have both collaborated on a new, original, self-published ebook called POE… how did that come about? And what was it like working together?
R: For me it was largely painless. I had come up with the idea for POE several years earlier, but had never gotten around to doing anything other than a short synopsis and a couple chapters. I had pitched the idea to Brett at the time and he always loved it, so when we decided to write something together, he suggested POE and I thought why not? But I was in the middle of another book at the time, so he was the one who sat down and fleshed the idea out, wrote an outline we agreed on, then hammered out the first draft. I came in and did a rewrite, then Brett did the final polish. We spent a lot of time on the phone discussing various scenes and character motivations, but we never had any real disagreements. We also found that our writing styles meshed quite well.
B: What Rob said. Painless and fun! Can't wait until the next one's underway.
How has the book performed? Will there be sequels?
R: I'm happy to say that the book has been performing well despite little publicity. I'll be launching into the first draft of the sequel sometime this month.
It seems you both followed up POE almost immediately with new, self-published ebooks. Was that always the master plan behind the timing of the release of POE? Was it intended as a "gateway drug" for draw your audiences to one another's work?
R: Is there supposed to be a master plan? The collaboration was certainly designed to draw in readers from each other's camp, but the new books were already planned even before we decided to write POE. Brett puts out several books a year and my own personal plan is to catch up to him at some point.
B: No master plan. Just put out the books when they're ready.
Are there more collaborations on tap?
R: Well, there's the new POE, which should be out in time for Christmas, and there's another idea of mine we've considered working on called LINGER, but finding time to get it fleshed out and written is a problem with our busy schedules.
B: LINGER is going to be great when we finally get to it! Can't wait.
Tell us more about your new books.
B: My latest is Quinn #7, called
THE ENRAGED
. It picks right up where the last book,
THE COLLECTED
, left off. There was a bit of a cliff hanger at the end of that. In
THE ENRAGED
, Quinn sets out to deal with those responsible for what happened in THE COLLECTED. It's rocket fast, exciting, and, hopefully, utterly satisfying.
R: My book NEGLIGENCE is a sequel to TRIAL JUNKIES. Hutch and his old college friends—who spend a lot of time watching trials at a Chicago courthouse—find themselves embroiled in a case involving the murder of a school girl that leads them to an exclusive preparatory academy that could very well be housing a killer. It's got a few shocks for fans of TRIAL JUNKIES, but I think they'll be pleased.