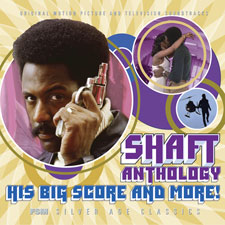 I can't stop listening to "The Shaft Anthology" while I write. It's an incredible, 3 CD collection of original soundtrack cues from "Shaft," "Shaft's Big Score," and the TV movies, brought to you by the terrific folks at Screen Archives.
The "Shaft" soundtrack that has been available up to now was actually a re-recording of the original cues. But this anthology presents the original score for the first time. Here's how Screen Archives tells it:
The original 1971 Shaft
was one of the seminal films of "blaxploitation" movement, as Shaft
gets involved in the Harlem rescue effort of a gangster's kidnapped
daughter. The score by Isaac Hayes not only set trends in film music
but pop and R&B, with its spoken/sung lyrics, disco-era wah-wah
guitar and high-hat cymbals, and lush, soulful orchestrations. The
soundtrack was widely distributed on a 2LP set (later a CD) by
Enterprise (Hayes's personal label on Stax Records) but that was a
re-recording done in Memphis. For the first time, this CD presents the
original Hollywood-recorded film score featuring primordial versions of
the source cues as well as all of the dramatic underscoring (little of
which was adapted for the LP). It is a fascinating glimpse into Hayes's
creativity and an important archiving of this legendary work.
Being the geek that I am, I have been obsessively comparing cues between the original and the re-recording…and I definitely prefer the original cues. The anthology also includes the music from "Shaft's Big Score" and the never-bef0re-released cues from the half-dozen "Shaft" TV movies by Johnny Pate ("Shaft in Africa), who used the iconic Shaft theme in a variety of clever and entertaining ways. The collection also comes with surprisingly detailed and informative liner notes.
It's great stuff, a must for any soundtrack collector. But if you want to buy it, you'd better hurry. This is a limited edition of 3000 copies.