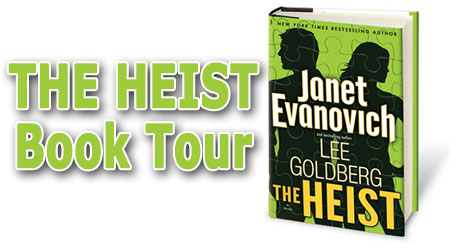 Janet Evanovich and I will be going on a book tour on June 18, starting with some media interviews in NY and then hitting Westlake, Ohio with our first booksigning that night. We'll be in Dallas on  June 19, Houston the next day, then finishing up in Atlanta on June 21st. The complete schedule is below.
But if you can't see us in one of those cities, don't despair…signed copies of THE HEIST will be available at some select retailers. I'll let you know as soon as I have a list.
Westlake Ohio, June 18
Barnes & Noble  – 6 PM
Signing with Janet & Lee
198 Crocker Park Blvd.
Westlake, OH
Dallas, Texas – June 19
Barnes & Noble – 6 PM
Signing with Janet & Lee
7700 West Northwest Hwy., Ste. 300
Dallas, TX
Houston, Texas – June 20
*TICKETS REQUIRED*
Murder by the Book presents a Q&A with Janet and Lee – 7 PM
The Renaissance Houston
Greenway Plaza Hotel
6 Greenway Plaza East
Houston, TX
Event is in the Greenway Ballroom
*Murder by the Book really wanted to have a special evening for their customers.  The $35 ticket includes a seat for the Q&A, a pre-signed copy of The Heist and hotel parking.
Companion seat tickets are $8 (if a companion comes separate from the main ticket holder, please see a Murder by the Book employee to have parking validated.)  Murder by the Book will have books for sale at the event, but you are welcome to bring books from home to be signed.
Purchase tickets in-person, starting on May 9, at…
*  Murder by the Book, 2342 Bissonnet Street
*  Over the phone (713-524-8597)
*  Online at murderbooks.com.
Atlanta, Georgia – June 21
Barnes & Noble – 6 PM
Signing with Janet & Lee
1217 Caroline St. at Moreland Ave.
Atlanta, GA