A guest post from Kate Goldstone.
Here's another guest post from my friend Kate, a big fan in the UK of crime shows, crime novels and everything noir, talking about her six favorite crime TV series that are now available in boxed set DVDs. I'd be interested to know your recommendations, so leave a comment…
It's the season of goodwill to all men, when boxed set sales go crazy. I thought it'd be fun to explore six of the very best crime and investigation TV series, to inspire this year's joyous boxed set shenanigans. If you're not sure what to immerse yourself in, why not give one of these little beauties a go?
6 of the best crime and investigation TV series
Crime TV series don't get much better than The Wire, a show series friends and family are probably sick to death of me banging on about. Sorry, sorry, but it's just such a class act. How about I shut up about it and cover something a bit different instead… Sherlock Holmes, anyone?
Sherlock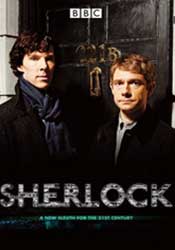 Good old Holmes and his sidekick Watson are international stars, covered time and time again on film and TV. But my favourite and freshest take on Sir Arthur Conan Doyle's best-selling character is the recent series Sherlock, starring the marvellous Benedict Cumberbatch and my old friend Jamie's brother Martin Freeman of The Office and The Hobbit fame. Here's what Wikipedia says about it:
"Sherlock is a British television crime drama that presents a contemporary update of Sir Arthur Conan Doyle's Sherlock Holmes detective stories. Created by Steven Moffat and Mark Gatiss, it stars Benedict Cumberbatch as Sherlock Holmes and Martin Freeman as Doctor John Watson. Six episodes have been produced, the first three of which aired in 2010. Series two aired in 2012, and a third series began production in March 2013. The series has been sold to over 180 territories.

Gatiss has criticised recent television adaptations of the Conan Doyle stories as "too reverential and too slow", aiming instead to be as irreverent to the canon as the 1930s and 1940s films starring Basil Rathbone, which were mostly set in the then-modern post WWII era. Benedict Cumberbatch's Sherlock uses modern technology, such as texting, the internet, and GPS, to solve crimes. Paul McGuigan, who directed two episodes of Sherlock, says that this is in keeping with Conan Doyle's character, pointing out that "in the books he would use any device possible and he was always in the lab doing experiments. It's just a modern-day version of it. He will use the tools that are available to him today in order to find things out."

The update maintains some traditional elements of the stories, such as the Baker Street address and Holmes's adversary Moriarty. Although the events of the books are transferred to the present day, some elements are incorporated into the story. For example, Martin Freeman's Watson has returned from military service in Afghanistan. While discussing the fact that the original Watson was invalided home after serving in the Second Anglo-Afghan War (1878–1880), Gatiss realised that "it is the same war now, I thought. The same unwinnable war."
As quirky, eccentric colourful and unpredictable as Holmes himself, it's a fabulous series available as a boxed set on Amazon. Better still there's another series on the wind, as reported by the Mirror newspaper earlier this week. Jolly good.
The Sopranos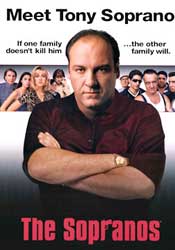 Crime TV shows don't come much better than the epic classic The Sopranos and the boxed set is a six-series whopper, perfect for total telly immersion.
If you've been in outer space or at the centre of the earth for the past decade or so, you may have missed it. Otherwise you'll know what I'm on about. It's a cracking US television drama created by the seriously talented David Chase, about the life, loves and disasters befalling a New Jersey-based Italian-American mobster called Tony Soprano, played by the sadly-missed James Gandolfini. Conflict threads its way throughout the show, as Tony tries his best to balance the conflicting requirements of his home life and his career in organised crime. He's one of those characters I love to hate. In many respects the man is a violent, amoral, fat fool. In others he's a straight up gentleman and scholar. For me, it's the stark  contrasts that make it so compelling.
Here's what one Amazon reviewer, Simon Brew, says about it:
A flat-out treasure trove of television, The Sopranos Complete HBO Seasons 1-6 box set brings together every episode of a genuinely extraordinary series. Those that call it quite possibly the best show America has produced in the last decade aren't far wide of the mark (although fans of The Wire could have an argument there).

To think The Sopranos all started from a simple sell: that a New Jersey mob boss falls into depression, and seeks out counselling to help him cope. And while early episodes followed Tony Soprano's balancing act as he sought to keep this from his mobster friends, The Sopranos took this foundation and built upon it a collection of layered, intriguing characters from both Tony's 'work' and 'home' families.

That's only part of the reason for The Sopranos' extraordinary success, though. Because the writers then seeded many delightfully intricate plotlines, that seemed to seamlessly weave between one another. The end result was that every character was important, and–crucially–there was a real sense of unease, as fans began to realise that The Sopranos could have a quiet run of episodes, and then suddenly take out a character you've spent hours engaged with.

It's a fascinating cocktail. Ruthless yet emotional, violent yet intimate, brash yet insecure, the characters of The Sopranos are as three dimensional as television drama gets. It's a tragedy it's finished, but the six series in this box offer a stunning legacy, and a masterclass to anyone else in the planet looking to make a character-driven drama.
Dexter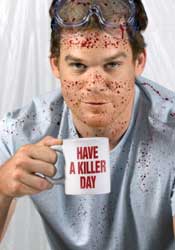 Another epic, the Dexter crime series on TV covers eight seasons, so is perfect for whiling away a few post-Christmas totally-fed-up-with-turkey days. Based on Jeff Lindsay's books, it's about a Miami police blood spatter pattern analyst and forensics expert who kills baddies in his spare time.
The character Dexter himself, played by Michael C. Hall, is profoundly affected by his mother's murder when he was a toddler. So much so that he embarks on a murderous spree punishing the bad guys who he feels have escaped justice while trying his best to avoid suspicion. It's quite a balancing act, pulled off via a deceptively mellow daytime facade. By day he's a sweetie, by night he's a serial killing monster.
I know it's all a bit silly. The plots stretch credibility way too far, the ending of the final series has been slammed by reviewers, and I dearly hope there isn't a real-life Dexter out there. Who says he owns the moral majority, after all? But it's grand entertainment. Sometimes storytelling is about pushing the boundaries, suspending belief rather than sticking slavishly to realism. If you fancy a bit of escapist fun, give the complete boxed set a go.
Breaking Bad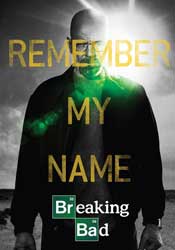 My all-time favourite, I can't resist including Breaking Bad in my top 5, even though it's only partially a crime drama TV series. I love the way the makers don't  moralise one way or the other about crystal meth production and use, keeping moral judgements to themselves, letting viewers make up their own minds and allowing the storyline to stand up for itself. The characters are about as far from black and white as you can imagine, which is extremely refreshing. The main character, Walter White, played by the remarkable Brian Cranston, is about as believable as it gets. The story telling is quality on a stick, matchless and peerless. The scripting is unbelievably good. The acting is superb. And the storyline will have you on the edge of your seat from the start.
Here's what the Time Entertainment review says about the last episode, which should be enough to send you running to the nearest DVD store with a bunch of hard-earned cash held tight in your sweaty little hand for the Complete Series boxed set.
"Felina," the last episode ever of the magnificent series Breaking Bad, was a kind of machine gun of narrative, knocking down all of those questions with auto-fire efficiency. (Well, almost all. Sorry, Huell!) It was not flashy. It wasn't structurally ambitious, in the way other Breaking Bad episodes have been. It was not, in most respects, surprising. (Except for Walt's laundering scheme with Gretchen and Elliott, I think I saw nearly everything predicted, at least in general terms, by people besides me in the last week.)

And that's OK. Because what "Felina" was–as effective, satisfying series finales are–was true. It was true to the five seasons that preceded it, true to Walter White's obsessions and pride, and true to what Breaking Bad is at heart: a Western. As in the song "El Paso," the protagonist (I'm not going to say hero) rode back to town, faced his enemies, said his goodbyes, and died. A Western is meant to go out with a bang, and Breaking Bad went out with about 40 of them per second (plus a dose of ricin).

It's a Western, though, in which we were following the man, literally, with the black hat. Having seen the trail of suffering Walt has selfishly left behind him, I didn't necessarily want to see Walt end up triumphant, feeling like a hero. But as I wrote when this final run of episodes began, the definition of a "good" Breaking Bad finale was not whether it punished Walter White. It was whether the series stayed true to his character, to its themes, whether or not it was pleasant to see.
Poirot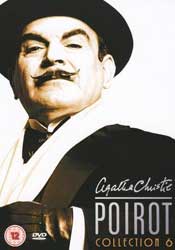 If you like your crime TV shows a bit more laid back, less in-your-face, you could always give Hercule Poirot a go, one of Agatha Christie's best-loved detectives and a much gentler telly experience than the usual contemporary murder, mayhem and violence.
I thought a US viewpoint would be interesting, so here's what 'Mad Max' from Florida has to say about the latest series, now available on DVD:
Ever since David Suchet indicated that he wanted to film the last five episodes, most lovers of Poirot have been waiting impatiently for them to be released. "Clocks" was aired in December 2011 in the UK but "Elephants Can Remember" was not shown until June 2013. A long hiatus, but they are now finally here.

Except for "Elephants Can Remember" which was on YouTube for awhile until it was removed for whatever reason, and which I really enjoyed, I haven't seen these episodes yet.

I live in the USA but because I am so impatient to see them, I purchase UK DVD editions (it's not a problem to get a DVD player that plays all regions/all codes). The US releases are just too delayed. I think 'Third Girl ' and 'Appointment with Death" and "Orient Express" from 2010 are now, finally, available. It's ridiculous it takes so long for a US edition to be released.

So, I am thrilled that the final five mysteries are now finally released. I didn't expect a DVD release until next year, since "Curtain" was just aired in the UK on November 13, but whoever rushed these to market should be congratulated. Poirot lovers thank you and I will wait with bated breath until the Amazon box shows up in my mailbox. A great review of all five episodes has already been posted so I will just enjoy them without further comment. Ciao from Florida.
Poirot isn't exactly quintessentially English, he's Belgian, but you get the picture. Classic British period drama-style whodunits with exceptional sets, costumes and scripting, and a charmingly eccentric feel. Perfect for family viewing, something that won't shock the pants off your elderly aunties or scare the kids so much they have nightmares.
Diagnosis Murder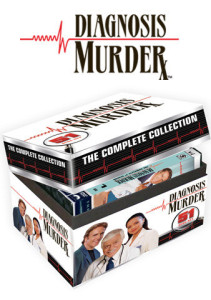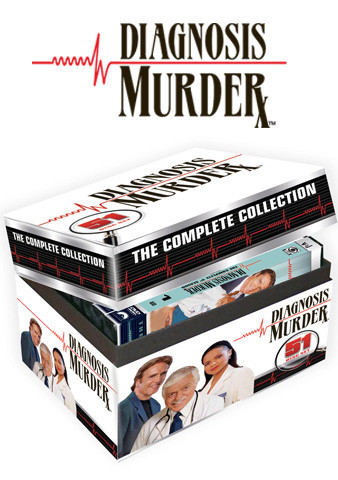 Diagnosis Murder is bigger right now in the UK than anywhere else, and for good reason. It's a terrific mystery starring Dick Van Dyke as the chief of internal medicine at a Los Angeles hospital… and a genius when it comes to solving crimes, often assisting his son Steve, an LAPD homicide detective, in his investigations.
The series, which Lee wrote and produced, is known for its well-plotted mysteries, warm humor, and big-name guest-stars from classic TV shows. My favorite episode brought back Robert Culp from I Spy, Patrick MacNee from The Avengers, and Barbara Bain as Cinnamon Carter from Mission Impossible in a clever mystery set in the world of espionage. Wes Britton, author of the Encyclopedia of Television Spies, interviewed Lee about the show's popular stunt casting:
It all began with one starring Mike Connors reprising his role as Joe Mannix. Goldberg recalled.

"The Mannix episode was such a huge hit – in terms of publicity and ratings – that we knew we had to do more like it. Not only that, but I am a major TV geek. I was reliving my TV youth by doing these shows. I think the first one we did after Mannix was TV cops (an episode with Fred Dryer, Martin Milner, Kent McCord, Angie Dickinson and James Darren), then TV spies, TV doctors (Wayne Rogers, Chad Everett, Jack Klugman, Bernie Kopel, etc.) TV SciFi (with George Takei, Walter Koenig, Grace Lee Whitney, Majel Barrett, Billy Mumy, etc.) and even a "fire" show with cast members from Emergency. We also did some bizarre `theme' stunt casting shows . . . like one entirely comprised of people from various versions of M*A*S*H (Elliott Gould, Jamie Farr, Sally Kellerman, Loretta Swit, etc.) and another of just actors who'd starred in Garry Marshall sitcoms, another full of country music stars. We just wanted to have fun . . . and to indulge our love of old television. Plus the stunt episodes all got big ratings and tons of publicity. The public loved it as much as we did."
Diagnosis Murder is television comfort food…not as old-fashioned as Poirot or as dark and edgy as Dexter, but hitting the sweet spot right in the middle. It's good fun for the entire family. All eight seasons, including the pilot and the three TV movies that preceded the series, are now available in a boxed set .
Place your vote now…
It's always fascinating to find out what other people like best and why, and there's plenty to talk about in this massive and ever-popular genre.  What's your favourite crime series on TV? And which boxed sets will you be enjoying this Christmas?