I recently released a slim little book called THE JOY OF SETS: Interviews on the Sets of 1980s Genre Movies.
Go back in time with me to the 1980s, when I was a young journalist and aspiring author, and visit the sets of movies like Back to the Future, A Nightmare on Elm Street, and A View To a Kill, where I interviewed Michael J. Fox, William Friedkin, Wes Craven, Chevy Chase, Robert Zemeckis, Roger Moore, and many others actors, directors, producers and screenwriters.
I put myself through college by writing freelance articles, primarily about movies, TV and publishing, for publications like Starlog, American Film, Cinefantastique, and the San Francisco Chronicle. I didn't do it just to pay my tuition and support myself… I also saw it as a way to get a graduate school education in all aspects of the entertainment industry…learning lessons I'm still benefitting from today.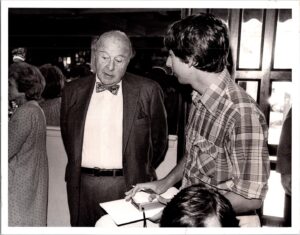 I'd go to the set of a movie and interview everyone — the actors, director, writers, special effects guys, production designers, etc. I'd write an overall "set piece," with quotes from everybody, then longer interviews with each person that I'd sell sepately (though Starlog commissioned and published most of them).
The set pieces are a snapshot of film history, offering a revealing look at film-making in the 1980s, while also exploring the long careers of established talents like Kurt Russell and director Fred Schepsi at the top of their game…and introducing newcomers like Johnny Depp and director W.D. Richter, some of whom went on to greatness, and others who disappeared into obscurity.
I think this Bookgasm review really captures why I decided to publish this collection:
Lee Goldberg's collection indeed captures the feeling of reading about hotly anticipated movies in the blockbuster excess of the '80s. One can sense the then-young film obsessive had to have felt with such access to the making of multimillion-dollar pictures. While not all of these Interviews on the Sets of 1980s Genre Movies (as the subtitle has it) entail movies worth watching, Goldberg's reports never fail to entertain. As with his recent James Bond Films volume, one reason is revisiting a once-dominant type of film journalism; the larger is the in-hindsight delight of checking how forecasts panned out.
I hope you enjoy it!