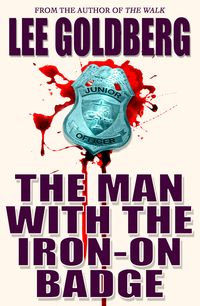 David Foster's Permission to Kill blog,  one of my favorites for his reviews of Eurospy books and movies, has given the ebook edition of  THE MAN WITH THE IRON-ON BADGE a rave. He says, in part:
Apart from being highly entertaining, The Man With the Iron-On Badge is author, Lee Goldberg's love letter to detective fiction and television shows of the past. And as such, a knowledge of these shows is a boon when reading this book. Don't get me wrong, the reference aren't obscure and you don't have to be a detective story boffin to appreciate the story, but the subtle in-jokes, and allusions to Shaft, Spenser, Shell Scott, Travis McGee, Mannix, Rockford and many others, simply mean that if you are familiar with those characters, then this book offers that extra bit of 'knowing' enjoyment.

Ultimately, The Man With the Iron-On Badge delivers exactly what the title and the opening paragraphs promise — a fast paced, first person thriller about an under achiever who has to strive to be more than he ever thought he could be. More than just a 'man with an iron-on badge'.
Thank you so much, David!
For now, The Man with the Iron-On Badge is only available as an ebook (though you can still find used copies of the hardcover out there)…but in early 2011 there will be a trade paperback edition, too. Here are links to the digital editions: