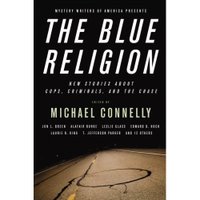 The MWA anthology BLUE RELIGION, edited by Michael Connelly, scored a rave review from Publisher's Weekly:
The Mystery Writers of America presents a high-quality anthology of 19 original stories that explore a wide range of police experiences, from newcomer Polly Nelson's superb tale set in 1864 Kansas, "Burying Mr. Henry," to editor Connelly's powerful and grim Harry Bosch investigation into a young disabled boy's death, "Father's Day." The sordid mean streets, depicted in Persia Walker's "Such a Lucky, Pretty Girl," are nicely balanced with the lighter touches of Jon Breen's "Serial Killer," a darkly comic tale in which two police detectives recount one of their cases to a community college writing class. TV writer Paul Guyot contributes one of the volume's strongest selections, "What a Wonderful World," about a cop's obsessive search for the killer of a hot dog vendor. This is one of those rare themed anthologies that can be enjoyed at one sitting.
I was chairperson of the MWA committee that selected half of the stories for the book, so I'm very happy about the review. And I am doubly pleased to see my friend Paul Guyot's story singled out for praise.