Today I did a booksigning at the Mystery Bookstore in Westwood with Bill Rabkin, author of the PSYCH novels. Our other scheduled guest, Steve Cannell, had to cancel at the last minute due to a family emergency. The fine folks at Hansen's Cakes provided an amazing MR. MONK IS MISERABLE cake that tasted every bit as good as it looked (though I hated to cut into it).
Bill and I shared some anecotes from our experiences in television, told some stories about The Hoff, and talked about writing our books. Bill had a funny encounter with a fan…but I will let him talk about that on his blog (if he chooses to).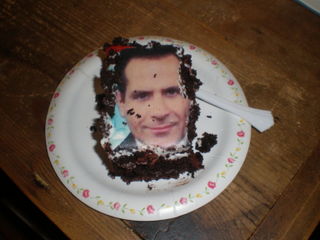 I signed lots of books, ate too much cake, and probably told more stories than I should have. I'd like thank Linda and Bobby, and new owners Pam Woods and Kirk Pasich, for making us all feel at home.