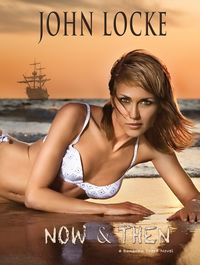 The Wall Street Journal reports that cheap ebooks from self-published authors are making NY publishers wake up in a cold sweat…a notion that self-published authors used to fantasize about and that I've scoffed at (and ruthlessly ridiculed) for years.
But the advent of the Kindle, combined with Amazon  offering their sales platform to all-comers for free, has changed everything. Now that self-pubbed  fantasy has come true in a big, big way:
"[Amazon is] training their customers away from brand name authors and are instead creating visibility for self-published titles," one senior publishing executive who asked not to be identified, says of Amazon.

As digital sales surge, publishers are casting a worried eye towards the previously scorned self-published market. Unlike five years ago, when self-published writers rarely saw their works on the same shelf as the industry's biggest names, the low cost of digital publishing, coupled with Twitter and other social-networking tools, has enabled previously unknown writers to make a splash
Now it's actually possible for an author nobody heard of to become a millonaire within just a matter of months. I'm not exaggerating. Everyone talks about Amanda Hocking…but perhaps the most astonishing success story of all is John Locke.
Mr. Locke, who published his first paperback two years ago at age 58, says he decided to jump into digital publishing in March 2010 after studying e-book pricing.

"When I saw that highly successful authors were charging $9.99 for an e-book, I thought that if I can make a profit at 99 cents, I no longer have to prove I'm as good as them," says Mr. Locke. "Rather, they have to prove they are ten times better than me."
Locke earned $126,000 on 369,000 sales on Amazon in March alone. That's a huge uptick from the 75,000 he sold in January and the 1300 he sold in November.
Wait, let's think about that some more. 
John Locke went from selling 1300 books to 369,000 in four months. 
Holy.
Shit.
Anyone who thinks the e-book market has peaked isn't paying attention….and any midlist author who signs another pissant three-book contract with a NY publisher (or any publisher) should check themselves into a mental institution right away. 
Don't look for Locke to follow Amanda Hocking's footsteps and take a NY publishing deal. He says he's not interested, though he has signed up with a high-powered agent to field movie offers and deal with foreign publishers. She sums up the whole ebook marketplace very nicely: "This is a Wild West of a world," she says.