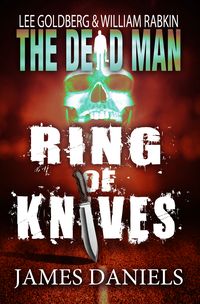 Booklife has a great interview with James Daniels, author of DEAD MAN #2: RING OF KNIVES. Here's an excerpt:
What do you think of being on the roster with guys like Bill Crider and James Reasoner?

James L. Daniels:  It's pretty intimidating.  Virtually all of the other authors writing books for this series are Pulp Fiction Gods… some of them have written hundreds of novels, many of them have published in a dozen separate genres, some have created best sellers… And then there's unpublished me.  If Lee's lineup of authors is like a row of statues of Greek deities in a museum, I'm the bobble-head Elvis that someone set down between Zeus and Athena.  No joke.

So The Dead Man project is awesome, because…?

James L. Daniels:  It's a dynamite project because the set-up they've created is brilliantly flexible, so every book can have a different feel, a different emphasis, a different angle; can explore a different aspect of their dark mythology, and still be true to the spirit of the original.  The stories are structured to be fast, fun, and action packed, with a generous helping of chills along the way.  It's a wonderful project, and I'm really, really grateful to be a part of it.