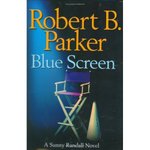 I'm a big Robert B. Parker fan. That said, BLUE SCREEN is probably one of his worst books. For one thing, it's a Sunny Randall novel, his weakest series and a bland imitation of Spenser. And like most Sunny Randall novels, it's a meandering, uninvolving story that feels as if he was making it up as he went along (at least he only used the phrase "we'd be fools not to" once in this book and not as the end of a chapter for a change). Parker has his PI working for a self-involved celebrity (something he's done several times with Spenser and once before with Sunny), which only adds to the "been there/done that" feeling that pervades this listless book.
But what ultimately makes BLUE SCREEN more than just a disappointing book in a so-so series is that Jesse Stone, the hero of his third ongoing series, is teamed up with Sunny in this story and neutered in the process. Which is a tragedy, because the Jesse Stone books have been (with the exception of SEA CHANGE) Parker at his very best, harkening back to his early Spenser novels. They've also provided the basis for a trio of terrific Tom Selleck TV movies.
The Jesse Stone character in BLUE SCREEN is cringe-inducing. Then again, just about everything in this book is cringe-inducing, from the cutesy banter to the endless attention given to Sunny's dog (I won't even go into the cameo appearance by Susan Silverman). Unfortunately for us Jesse Stone fans, the book seems aimed at merging the two series into one, something I hope Parker will reconsider. We'd be fools not to.