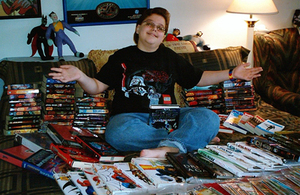 The Press-Enterprise reports that 11-year-old Nicholas Barry of Riverside, California has read 1,282,442 words so far since August, quite an achievement…and a nice, even number that Adrian Monk would appreciate. So I guess it's no surprise that Nicholas counts the Monk books among his favorites:
Nicholas, a Riverside resident, said he reads so much because he enjoys it.

"I love the challenge. I don't do it for the prizes," he said.

Some of Nicholas's favorite books are the "Star Wars" series by
Timothy Zahn and the "Monk" series by Lee Goldberg. The Accelerated
Reader program lets students take quizzes on the books they enjoy and
allows them to read an assortment of books which benefits the students,
Nicholas said.

"It inspires kids to read. They get to read what they want," he said.
Congratulations, Nicholas!