Day three — or was it day four? I've lost track with so many hours in the sun and 11o-degree heat — was a lot of fun. But again, I spent more time hanging out at the Biltmore than I did attending panels. And most of the time I spent talking to readers and other authors was either in the pool or sitting around the pool. I was on a lively panel with Dale Brown (who flew himself in from Tahoe in his private plane for the day), Erica Spindler, Diane Vogt and Brad Meltzer — but with Goldberg luck, we were up against Clive Cussler, so attendance was sparse. Still, we had fun. During the day, I chatted with Raymond Benson, Harley Kozak, Jeremiah Healy, Sandy Balzo, Richard Hawke (Tim Cockey), David Montgomery, Paul Guyot, and, of course, my fellow panelists before and after our panel. I was particularly impressed by Brad, who has successfully branched out into comic books and television. He's also a genuinely nice guy who, it seemed to me, made every reader he met feel like his close friend (I guess that would include me, too). My daughter Maddie was thrilled because several people asked her to sign their copies of THRILLER (dozens of people came up to her to tell her how impressed they were by her question to R.L. Stine, which embarrassed and thrilled her).


I can't say enough good things about the Arizona Biltmore. The rooms, the service, the food, the location, the grounds, the architecture, everything about the place was great. We skipped the awards banquet last night. Instead, we went to dinner for a third time at Sam's Cafe, where my wife sweet-talked the waitress into sweet-talking the chef into giving us the seasoning for their steaks and ribs. Not only did they give us a big sample, they also wrote down a list of exactly what we were getting. Then we hurried back to the hotel, where they were playing SPY KIDS 2 on a big screen above the pool and serving S'Mores by a roaring campfire. My daughter floated in the pool, watching the movie and eating S'Mores…after a day of playing on the water slide (And she met R.L. Stine here). I think the Arizona Biltmore may have replaced Disneyland as the place she'd like to live.
The convention was great — smoothly run, interesting, and a lot of fun. But I can't help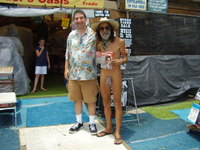 wondering if it was more of a "author's convention" than a fan convention. It seemed to me that the authors either out-numbered, or equalled, the number of civilians in attendence. That's not a bad thing, but I think it will shape how the programming is planned for Thrillerfest 2007 in New York. If they want more "civilians," they will probably need to come up with more innovative ways to allow fans to interact with authors. I told ITW big-wig David Dun about what Joan Hansen has done with Men of Mystery, and that they might want to use her program as a template for a luncheon at the next Thrillerfest. He seemed intrigued…or maybe I had barbecue sauce on my chin.
I'll share some pictures from Thrillerfest in a day or two (I have to wait to get most of'em from Diane Vogt. In the meantime, here's an out-of-focus picture of Brad Meltzer, me, and Erica Spindler and another photo of the Naked Bookseller at Reader's Oasis in Quartzsite, AZ…notice my daughter in the background, aghast).