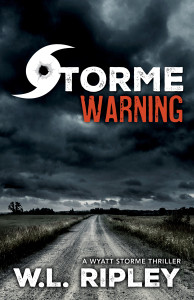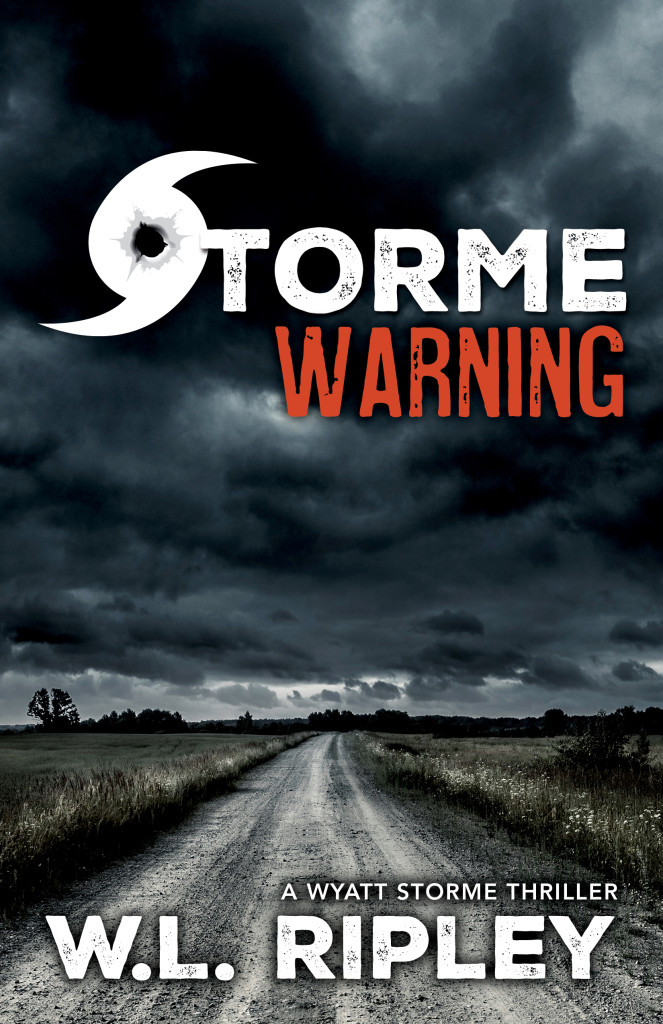 My friend W.L. Ripley is the author of two critically-acclaimed series of crime novels — four books featuring ex-professional football player Wyatt Storme and four books about ex-Secret Service agent Cole Springer. His latest novel is Storme Warning, a stunning new mystery/thriller that's earned him well-deserved comparisons to Robert B. Parker…and from the likes of Ace Atkins, who is now writing Spenser. Here Rip talks about creating Storme…and series characters in general.  
Wyatt Storme evolved from a love of mystery characters like Travis McGee, Spenser, and the protagonists of Elmore Leonard's many novels. But in shaping Storme as a series lead, I wanted a neo-classic mystery/thriller hero who would seem familiar and yet would be uniquely his own person and uniquely my own creation.
Storme is neither a detective nor a police officer, which places him in Travis McGee territory, but he will use deduction and reasoning to isolate and learn about the villain.  This is a nod to the deductive powers of Sherlock Holmes, without whom the modern mystery would not be what it has become.
Storme & Chick vs Spenser & Hawk
Wyatt Storme and his friend Chick Easton, a deadly and deeply troubled ex-CIA agent, are often compared to the Robert B. Parker's team of Spenser and Hawk. But I believe Storme is more closely related to John D. McDonald's Travis McGee because he is a man apart; a man taking his retirement in pieces. Yet unlike McGee, Storme is often reluctant to insinuate himself into other people's troubles and does not seek a financial reward.  The character of Chick Easton is closer Nero Wolfe's Archie Goodwin, only more deadly.  Easton's character often prods Storme into action and, like Goodwin, he keeps the dialogue lively and caustic.  The Wyatt Storme novels blend three sub-categories of the mystery/thriller genre:  tough-guy, western, and reluctant detective.
If you look at Robert B. Parker's Spenser (brilliantly continued by author, Ace Atkins), the most recognized tough guy in the modern literary world, you'll find that he possesses some traits associated with Sam Spade and Phillip Marlowe but is distinctively his own man.  Spenser quotes poetry and literature like a University professor yet he is as comfortable throwing a left hook to dispatch anyone foolish enough to bull up on him.  He still carries the classic .38 police special but is at ease handling the modern semi-automatic weapons.  Spenser is the first Renaissance man in the tough-guy mystery genre and has opened up possibilities for all of us who write.
Elmore Leonard's Raylan Givens Reflects his Pantheon of Characters
Elmore Leonard never saddled himself with just one hero yet many of his protagonists shared attributes that were singular to his pantheon of characters.  They usually were unflappable regardless of the situation.  They rarely spoke excitedly or in anger.  The best example of this, and Leonard's most memorable and likewise most singular character, is Raylan Givens.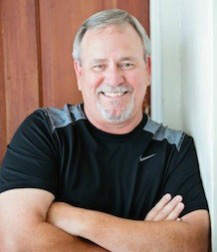 Givens was the son of Kentucky coal-miners and a U.S. Marshal who was an expert with a hand gun.  He taught marksmanship to other U.S. Marshal's and was deadly cool when dispatching a bad guy quite often giving the outlaw a chance to re-consider.  "I'm a dead shot.  I hit exactly what I aim at.  If I pull I shoot to kill."
Note the nod to the old Western heroes of cinema and the western genre.  Givens is a Marshal like Matt Dillon or Wyatt Earp.  Givens participates in shoot-outs like many Clint Eastwood characters (There are marked similarities between Givens and Clint Eastwood in the novels.  Height, body-build, cold statement that his enemy is about to die).  At once, we are familiar with Raylan Givens and at the same time he is a unique character in his own right.
Storme is, like the above, a neo-classic hero. Both of my main series characters, Wyatt Storme and Cole Springer, are denizens of the new American West.  They are throwbacks, as comfortable in the great outdoors as they are with their backs against the wall, guns blazing.  Like old Western Cowboys, they ride into town and save the day.   Storme is Wyatt Earp to Easton's Doc Holliday, Butch Cassidy to Easton's Sundance Kid.
Dave Robicheaux and Stephanie Plum Are Among The Best
One of the best contemporary series characters is James Lee Burke's, Dave Robicheaux, a disgraced N'Awlin's cop whose desperate struggles with alcoholism and personal tragedy place Dave (now a Sheriff's deputy in New Iberia Parish) in his own niche.  Burke is unsurpassed at making the setting a part of his stories and the tortured soul of Dave Robicheaux is on display at all times.  Robicheaux, like Spenser, is an intelligent man.  Yet, unlike Spenser, Robicheaux is often confused and even lacks confidence in his assessment of his moral stance.  Still, when his blood is up, Robicheaux is among the most violent of mystery heroes.
Janet Evanovich's Stephanie Plum is smart, tough, and given to romantic adventurism that heretofore was a part of the male hero make-up.  Evanovich plows new literary ground by making Plum a bond enforcement agent (Chick Easton performs this duty at times in the Storme lexicon). Plum is of Italian/Hungarian descent and vacillates between the romantic overtures of two different men.  She is honest about her foibles, which create problems in her job, but it is this very self-deprecation that endears her to her readers and makes Stephanie Plum one of the most successful characters in the mystery genre.
There are many, many more examples.  Sue Grafton's Kinsey Millhone (a classic detective in the Phillip Marlowe/Jim Rockford tradition), James Patterson's Alex Cross (criminal profiler), Ace Atkins other best-selling character, Quinn Colson (Ex-special forces Ranger), and Patricia Cornwell's Kay Scarpetta (Medical Examiner) are among the best.
All of these authors write sharply drawn, well-researched characters that give us a peek behind the curtains of very unique aspects of these justice-dealing heroes and their occupations. They have also been successful mining the classic nature of the mystery/thriller genre and giving their character remarkable traits, not quirks.  Too often beginning writers think they need to make their characters quirky. Quirky characters are the province of situation comedies, not mystery/thrillers.
Characters We Love, Books We Want to Read
One of the hardest aspects of a series character is keeping them fresh through many books.  All of the writers that I've talked about do so brilliantly and aspiring writers should study their work to learn how they pull it off.
Developing a lasting series character is the hardest thing you'll ever love doing.  I enjoy looking into Wyatt Storme's past, how he evolved into the person he has become and witnessing the sights, sounds, and his interaction with the universe he inhabits.
I write novels that I would like to read.  My hope is that they are also novels that you will want to read, too. I want the reader to keep turning pages and be continually entertained with laughter, hope, suspense, sudden danger and the consequences of life….and that you will find all of that in Storme Warning.