I am in Berlin…and too busy and jet-lagged to post, so here's some feldergarb-from-the-past. This post is from Sept. 2004 is about a group of fans clamoring for the return of "Battlestar Galactica" with the original cast…despite the fact that there's a hit revival of the show already on the air. What's even more amazing is that these clueless morons are still at it, three years later…
Yesterday in Variety, a bunch of clueless morons calling themselves The Colonial Fan Force ran a full-page, color advertisement clamoring for a "Battlestar Galactica" movie starring the original cast.
Millions of fans still dream of seeing the Battlestar
Galactica roam the heavens once more in a big screen continuations of
the epic story that began in 1978 with the original cast and characters
leading a new generation of warriors
Yeah, right… there are millions, no TENS of millions, of fans
clamoring for the return of Herb Jefferson, Laurette Sprang, Dirk
Benedict, and Richard Hatch (who is not nearly as powerful an actor as
the nude guy of the same name on "Survivor"… nor as successful). I
suspect the real audience is about 100 fat guys in their 40s, who at
this very moment are busily duping all their Heather Thomas videos onto
DVD…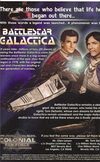 That said, I am always amused by the losers who spend their comic book
money on pointless ads like this (or, worse, the ones who publish a
synopsis of, or excerpt from, their unsold screenplays). The
advertising guys at Variety and the Hollywood Reporter must laugh
themselves silly with glee every time one of these suckers comes in.
In the case of the "Battlestar Galactica," the folks at "The
Colonial Fan Force" urge the readers of Variety (most of whom are
entertainment industry professionals) to write writer/producer Glen A.
Larson and Tom DeSanto, a guy who once tried to launch a movie version
of the TV show. This shows just how little the people who paid for this
ad understand about how the business works…and even sillier when you
consider the SciFi Channel is already in the midst of shooting a new
"Battlestar Galactica" TV series from NBC/Universal Studios with an
all-new cast led by Edward James Olmos.
I suppose we have Gene Roddenberry to blame for this, ever since he
cleverly engineered the so-called "viewer campaign" to save "Star Trek"
from cancellation. So now we get ads demanding the return of dull
supporting characters axed from TV shows (the "Save Marina" campaign on
"The L Word" comes to mind) and from the millions of fans still crying
over the demise of "Manimal." I'm looking forward to the "Bring Gloria
Reuben back to MISSING" ads… maybe the Colonial Fan Force can take up
the cause.
I'm sorry, I shouldn't joke. This "Battlestar Galactica" stuff is
serious business, as is clear from the Colonial Fan Force website:
We've got to buckle down, and get to work. It's going to be
up to each member of fandom to make sure our efforts come to fruition.
The CFF and its leadership will remain active in coordinating fan
efforts as much as possible, but everyone reading this page has got to
accept individual responsibility for making sure that we, as a group,
rise together and speak with one voice. None of us can afford to think
that "someone else will do it." We've all got to find some time (and
some stamps), and make it happen. We've got to make some collective
noise.
This would be funny if it wasn't so sad. Think of all the truly
worthy causes that could benefit from the same time, effort and money
these morons are devoting with such earnestness to this idiotic
pursuit…