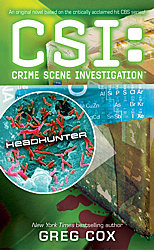 The International Association of Media Tie-In Writers
is pleased to announce this year's nominees for the 2009 Scribe Awards,
which honor excellence in licensed tie-in writing—novels based on TV
shows, movies, and games. The nominees for this year's awards are:
Best General Fiction Original
BURN NOTICE: THE FIX by Tod Goldberg
CRIMINAL MINDS: FINISHING SCHOOL by Max Allan Collins
CSI: HEADHUNTER by Greg Cox

Best General Fiction Adapted
DEATH DEFYING ACTS by Greg Cox
INDIANA JONES AND THE KINGDOM OF THE CRYSTAL SKULL by James Rollins
THE TUDORS: KING TAKES QUEEN by Elizabeth Massie
THE WACKNESS by Dale C. Phillips
X-FILES: I WANT TO BELIEVE by Max Allan Collins
Best Speculative Fiction Original
GHOST WHISPERER: REVENGE by Doranna Durgin
RAVENLOFT: THE COVENANT, HEAVEN'S BONES by Samantha Henderson
STARGATE SG-1: HYDRA by Holly Scott & Jamie Duncan
STAR TREK: TEROK NOR, DAY OF THE VIPERS by James Swallow

Best Speculative Fiction Adapted

HELLBOY II: THE GOLDEN ARMY by Bob Greenberger
THE MUTANT CHRONICLES by Matt Forbeck
STAR WARS – THE CLONE WARS: WILD SPACE by Karen Miller
UNDERWORLD: RISE OF THE LYCANS by Greg Cox
Best Young Adult Original
DR. WHO: THE EYELESS by Lance Parkin
PRIMEVAL: SHADOW OF THE JAGUAR by Steven Savile
DISNEY CLUB PENGUIN: STOWAWAY! ADVENTURES AT SEA by Tracey West
Best Young Adult Adapted
IRON MAN: THE JUNIOR NOVEL by Stephen D. Sullivan
THE DARK KNIGHT: THE JUNIOR NOVEL by Stacia Deutsch and Rhody Cohen
JOURNEY TO THE CENTER OF THE EARTH 3D by Tracey West
The high
est honor the IAMTW can bestow is the Grandmaster Award, which recognizes a writer for his or her extensive and exceptional work in the tie-in field. This year's honoree is KEITH R.A. DeCANDIDO. He has written over thirty novels, most of them original tie-ins or novelizations. His work includes many Star Trek novels, as well as original books in the CSI: NY and  Supernatural tie-in series, to name just a few.
The
Third Annual Scribes will be awarded at a special ceremony at Comic-Con
in San Diego July 23-29. (Specific date and time to be announced)
The IAMTW also awards tw
o Special Gaming Scribes, honoring excellence in game-related tie-ins. Those awards are given at GenCon in Indianapolis August 13-16 2009 (
http://www.gencon.com/2009/indy/default.aspx
. Specific date and time of the ceremony to be announced) The nominees are:
Special Gaming Scribe – Best Original
EBERRON: THE INQUISITIVES, THE DARKWOOD MASK by Jeff LaSala
DRAGONLANCE: DEATH MARCH
by Jean Rabe
EBERRON: THE DOOM OF KINGS by Don Bassingthwaite
WARHAMMER: ELFSLAYER by Nathan Long


Special Gaming Scribe –
Best Adapted
THE WORLD OF WARCRAFT: BEYOND THE DARK PORTAL by Aaron Rosenberg & Christie Golden
THE MUTANT CHRONICLES by Matt Forbeck
METAL GEAR SOLID by Raymond Benson
For more information about the IAMTW (
I
AM
a
T
ie-in
W
riter), please visit our site at
www.iamtw.org
Congratulations to all the nominees and special thanks to all of our judges for their hard work.