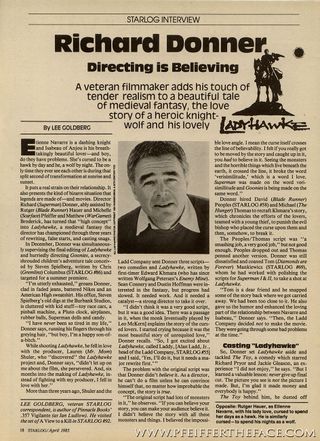 Starlog Magazine is no more — at least not in print. This is very sad news for me because I put myself through school writing for the magazine (among others) and it had an enormous impact on my life that I am still feeling today. 
On assignment for Starlog, I visited hundreds of movie and TV sets and interviewed so many actors, screenwriters, directors…people like Tom Cruise, Robert Zemeckis, Roy Scheider, Paul Verhoeven, Roger Moore, Michael J. Fox, Michael Crichton, William Friedkin, Sigourney Weaver, Richard Donner, Timothy Hutton, Gene Roddenberry, Richard Maibaum, Dan O'Bannon, Tom Selleck, Wes Craven, Kurt Russell, Jeff Goldblum, Richard Marquand, Tobe Hooper, Johnny Depp, George Lucas, and Lorenzo Semple Jr., to name just a few. And I learned a lot about the movie and TV business along the way.
I collected some of those interviews, along with articles by my friends (and fellow Starlog writers) William Rabkin and Randy & Jean-Marc Lofficier,  in two books — Science Fiction Film-Making in the 1980s and Dreamweavers: Fantasy Film-making in the 1980s.
Perhaps the highlight of my time as a reporter for Starlog was when they flew me to London to cover the premiere of THE LIVING DAYLIGHTS, the first James Bond film starring Timothy Dalton. 
All the journalists were invited by the studio to the premiere, which Prince Charles and Lady Diana were attending as well. We had to wear tuxedos and were driven to the event in limos. There were huge crowds being held back behind barracades in front of the Odeon Theatre as we pulled up. I got out of the limo just as a short young lady was emerging from the limo in front of me, so we walked in together. People were going nuts, taking pictures of us and waving. I leaned over and whispered to her: "Makes you wish you were famous, doesn't it?"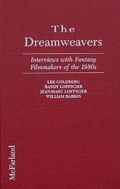 She laughed, patted my arm, and we parted in the lobby. Almost immediately I was swarmed by my fellow reporters. One of them asked "Do you know who you were walking with?"
I had no idea. I figured she was another reporter. He told me it was Chrissie Hynde of the Pretenders. I still had no idea who she was. So either she thought my remark was clever or that I was a complete dolt for not knowing who she was. But I like to think that somewhere out there is a photo from that event with a caption like "Chrissie Hynde with unidentified lover."
But, most of all, I am thankful to Starlog for my family. If not for the magazine, I might never have met the charming Lofficiers, which would have been a terrible thing…since they introduced me to my wife Valerie. We've been married for 19 years and have a 13-year-old daughter, Madison.
So for me, Starlog was more than a magazine that covered science fiction and fantasy movies, books and TV shows. It changed my life.
Good-bye, Starlog. I will miss you.
UPDATE: Starlog is gathering some of the reactions to the bad news. My good friend Dave McDonnell, long-time editor of the magazine, posted this:
"Lee Goldberg is an old friend of mine. His unsolicited interview "The Man who Killed Spock" (WRATH OF KHAN writer Jack Sowards) was on my desk the day I started. I lobbied to buy it and he wrote countless pieces for us."
It was my first national magazine sale and I was totally thrilled. That sale, along with tearsheets from some of my subsequent Starlog articles, led to me writing for Newsweek, United Press International, American Film, San Francisco Chronicle, and the Los Angeles Times syndicate, among many others. But you never forget your "first."
UPDATE 4-15-2009: More reactions to the news from Entertainment Weekly,  SFSignal,  Bob Greenberger, Mark Evanier, John Kenneth Muir and my cousin Danny Barer.