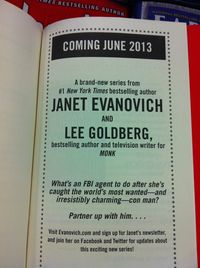 I've been so busy, I haven't been able to honor my New Year's resolution to post more often to the blog. But I'm sure you'll understand.
Last week I was in Florida, indulging my inner Fabio, doing a photo shoot with Janet Evanovich for our adventure novel THE HEIST, the first in our new series, which comes out June 18th.
Janet and I had a terrific time together, almost as much fun as we had writing the book, and I think that's going to come through in our author photos. But there was no rest for either one of us. We're already deep into writing the second book in the series and having a blast!
(Photo: Advertisement in hardcover edition of Janet's novel Notorious Nineteen)