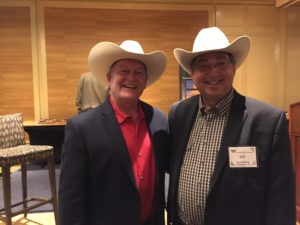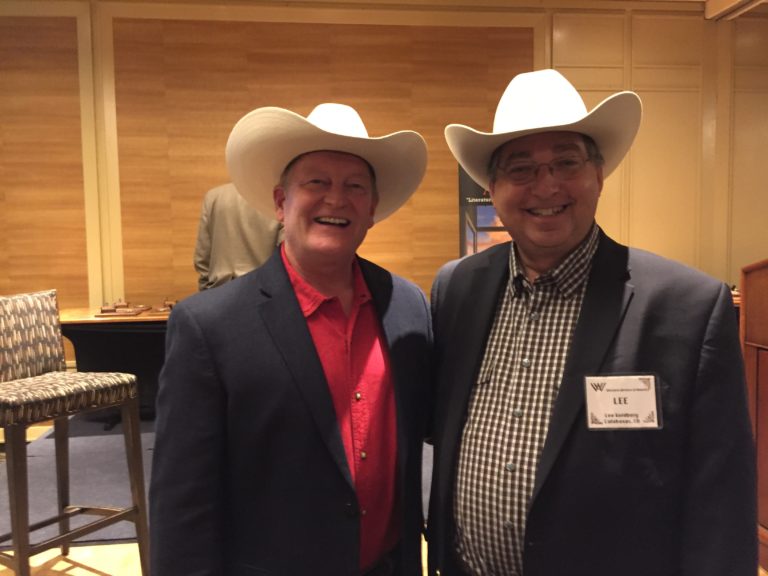 Okay, this is weird. I meant to simply upload this photo to my website… and that headline was supposed to be the caption… but somehow it accidentally became a blog post instead. Well, now that it's here, I guess I better hurry up and say something about it.
I just returned late last night from Billings Montana, where I attended the Spur Awards, which are the Oscars of western writing. I've always been a huge western fan and I've been looking for an excuse to attend the Western Writers of America conference for years. I finally got one: DOUBLE WIDE by Leo Banks won two Spurs — for Best First Novel and Best Contemporary Western — and it was published by Brash Books, the company I co-founded with Joel Goldman four years ago. So I jumped on a plane to be there for Leo and to bask in all the praise he'd be getting.
I was delighted to discover that my old friend producer Rob Word was there, too. Rob and I teamed up some years back to turn Bill Crider's OUTRAGE AT BLANCO into a TV mini-series. The project fell through, but we had great fun casting and scouting locations in California and Calgary (we haven't given up hope on filming it someday). He's a true western lover and historian and is the host of A Word on Westerns. We headed out to Little Big Horn for the day, which we really enjoyed, and hung out at the conference with western literary legends like Craig Johnson, Loren D. Estleman, Preston Lewis, and Johnny Boggs, among others. Rob even convinced me to buy a cowboy hat for the Spur Awards banquet. And it's a good thing I did, because it turned out that Brash got matching Spur Awards to go along with the two that Leo won.
Here are some more photos from the event…