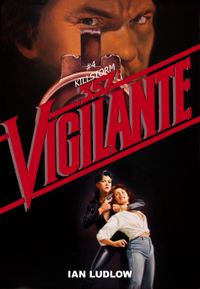 KILLSTORM, the long lost fourth novel in the .357 VIGILANTE series…never before published, now available for the first time anywhere in this special Kindle Edition.
Brett Macklin faces his greatest adversary yet — a ruthless, professional hit woman, seductress and master of disguise who launches a campaign of terror and bloodshed against him, pushing the vigilante to the emotional and physical breaking point, unleashing a bloody killstorm on the L.A. streets.
"As stunning as the report of a .357 Magnum, a dynamic premiere effort […] The Best New Paperback Series of the year!" West Coast Review of Books

THE STORY BEHIND THE BOOK
The adventures of Brett Macklin, the .357 VIGILANTE, were published by Pinnacle Books in 1985 as part of their popular line of "men's action adventure novels," which included such classics as THE DESTOYER, THE EXECUTIONER, THE PENETRATOR, and THE DEATH MERCHANT, to name just a few.
The first three books in the .357 VIGILANTE series were enormously successful. The movie rights were sold to New World Pictures. The fourth book, KILLSTORM, was only a few months away from publication in 1986 and a fifth novel was in the works…when Pinnacle abruptly went out of business.
For years, the .357 VIGILANTE books were locked up in a protracted bankruptcy proceeding before the rights to all the books, including the unpublished manuscript, finally reverted back to me.
Now, for the first time anywhere, KILLSTORM is finally "in print," twenty five years after it was written….

THE OTHER BOOKS IN THE SERIES
.357 VIGILANTE #2 MAKE THEM PAY
.357 VIGILANTE #3 WHITE WASH
and
.357 VIGILANTE: DIE, MR. JURY…all four books in one volume.