In a comment to a previous post, someone mentioned they had a good experience self-publishing their non-fiction work.
Let me make it clear, I'm not knocking self-publishing, except for people who think it's
going to get them into "brick and mortar" bookstores, reviewed in tne
New York Times, and onto the bestseller lists… or that it makes them "published authors." (That's a seperate rant for another post).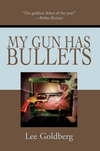 When my book UNSOLD
TELEVISION PILOTS went out-of-print after ten years, I reprinted it for
free through the Authors Guild's "Back in Print" iUniverse program (in
a cheaper, two-volume set) and have been very happy with the results. I
get a few hundred dollars in royalties every year… it doesn't sound
like much, but it's more than I'd get if the book remained
out-of-print.
I also reprinted for free MY GUN HAS BULLETS, through the now-aborted Mystery Writers of America/iUniverse program, and I'm happier with the way it turned out than I was with the original, hardcover, St. Martin's release… and I'm getting some royalties every now and then.
My experience with iUniverse has been terrific. I have no
complaints at all about the service, the quality of the books, or the
timely payment of royalties. Then again, iUniverse doesn't pretend to
be anything it isn't.