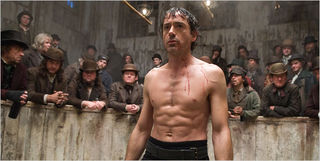 Somebody is going to write a book on how the Bourne movies have reshaped action heroes. First James Bond got Bourne Again (in CASINO ROYALE), now it's Sherlock Holmes' turn. The new Holmes, portrayed by Robert Downey Jr., is going to be as brawny as he is brainy. The New York Times reports:

Sure, he will still be smarter than everyone within a three-planet radius, and he will retain his uncanny ability to intuit whole life stories from the tiniest speck of dust on a shoe. But he will do those things while being a man of action, a chaser, shooter and pummeler of criminals — "like James Bond in 1891," Joel Silver, one of the film's producers, said last fall.
[…]The new Holmes is rougher, more emotionally multilayered, more inclined to run with his clothing askew, covered in bruises and smudges of dirt and blood. […]But when he applies himself, Holmes is as fast with his body — he is a bare-knuckle boxer, a crack shot and an expert swordsman — as he is with his mind.
Can a Bourne Again Robin Hood, Tarzan, and Popeye The Sailor be far behind?