I'm in NY. I'm staying at the Hudson Hotel, a supposedly hip spot, judging by all the young, beautiful people in the lobby and bars. I'm sure the bars are great. It's the rooms that suck. From what I understand, this was a women's dormitory or something before the Morgans Hotel Group turned it into a hotel. They didn't put a lot of effort into renovating the dorms into hotel rooms.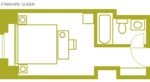 The rooms are smaller than a typical train compartment (the hotel prefers to say they're "reminiscent of a private cabin on an upscale yacht." More like a fishing trawler). The wobbly steel writing desk, which is about the width of a Time Magazine, and matching steel chair, harder on the ass than a bus bench, appear to have been stripped from a prison cell. Actually, a prison cell is more sensibly designed than this room. No amount of dark woods, mirrors, and pin-point halogens can hide the fact that this room is the size of a Camry.
The room is slightly wider than the low, Queen-size bed that dominates the space. The space can barely accomodate one average-sized person. The bathroom has plexiglass walls, which are covered with a thin, transparent curtain. So if you like privacy while you're on the toilet, forget about it. If you do sit on the toilet, your knees will hit the wall and you'll think back fondly on the spacious lavatory on the plane.
There isn't a single drawer in the room, just an open "closet" in front of the door that isn't large enough to fit a suitcase and that only has three hangers. There are no ice bucket in the room because there's no space for one. The tiny TV set is in a narrow cupboard, gets no reception, and makes my laptop screen seem huge. The heater gurgles and whines (even when its off), has two settings (freezing cold and blisteringly hot) and is conveniently located behind the headboard. The walls are so thin, when the guy next door called his wife on the phone, I was able to say hello to her.
And this, ladies and gentlemen, is an upscale place. With luck, this will be my first — and last — night in this hotel.