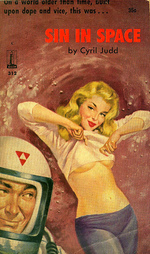 Over the weekend, novelist Bill Crider scanned the delightfully lurid covers of nearly 200 of his vintage paperbacks, many of them by Harry Whittington (under a variety of names). I don't know what I like more, the illustrations or come-ons like these:
"He used two women to feed his brute cravings."

"The sultry story of pagan revelries, lonely men, and a native girl."
"Her luscious body was used as a man trap"

"Faceless, he might be a devil or saint…but he had the lusts of a man."