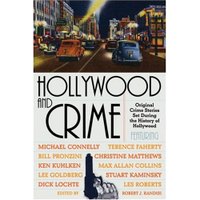 Booklist has praised HOLLYWOOD AND CRIME, a new anthology coming out next month that includes my short story "Jack Webb's Star":
As veteran crime writer Randisi notes in his introduction, when some people think of Hollywood, they think fame, glamour, and Disneyland. Others think of the Black Dahlia, O. J., and Fatty Arbuckle–the dark side of the Tinseltown dream. Among the authors represented in this collection of original short stories with a Hollywood theme are marquee names Michael Connelly, Max Allan Collins, Bill Pronzini, and Stuart Kaminsky. Among the best of the 14 selections are Collins' "Murderlized," featuring Moe Howard of Three Stooges fame investigating the death of his mentor, and Connelly's "Suicide Run," in which Harry Bosch extracts justice for a series of murdered starlets. Veteran television screenwriter Lee Goldberg has some fun with a small screen legend in "Jack Webb's Star," and Dick Lochte brings back private investigator Leo Bloodworth–still listening to Dinah Shore but on an MP3 player–in a mystery that ends with a devilish poke at the quality of modern screenwriting. This consistently high-quality collection offers readers a nice mix of big names and lesser-knowns who deserve larger audiences.
This follows a rave review from Publisher's Weekly, published a few months back before the book's release date was changed:
The 14 stories in this entertaining anthology from Shamus Award–founder Randisi span Tinsel Town history from the 1930s to the present and intersect, literally, at Hollywood and Vine. Top billing should go to Michael Connelly's Harry Bosch story, "Suicide Run," and to Lee Goldberg's "Jack Webb's Star"—the former for the detection and the latter for biggest laughs. Other highlights include Max Allan Collins and Matthew V. Clemens's reinvention of one of the Three Stooges, Moe Howard, as a detective in their clever "Murderlized," about the 1937 death of the Stooges' mentor, vaudevillian Ted Healy. Robert S. Levinson delivers a wicked portrait of gossip columnist Hedda Hopper in "And the Winner Is…," which turns on her lackey's efforts to stop a Nazi sharpshooter at the 1960 Academy Awards. From Harry Bosch's visit to a photographer at Hollywood & Vine Studios to Moe's meeting at a coffee shop at that intersection, all the tales pay homage to the storied Hollywood street corner.