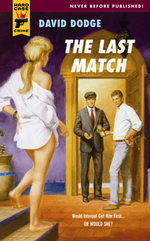 The folks over at Hard Case Crime have unearthed an unpublished novel by David Dodge (TO CATCH A THIEF) entitled THE LAST MATCH, which he wrote shortly before his death in 1974. The manuscript was lost among his papers… until now. Hard Case has announced that they will publish the book in October:
THE LAST
MATCH opens
with echoes of TO CATCH A THIEF, as a handsome criminal spars with a
beautiful heiress on the beaches of the south of France. From there, though, Dodge takes readers
on a sprawling international adventure, from cigarette smuggling in Tangier to a
deadly trip by steamship up the Amazon River.

THE LAST MATCH is a grand romantic adventure of the sort you just don't see anymore," said [Hard Case publisher] Charles Ardai. "It's the story of an incorrigible crook racing around the globe to escape the woman who is out to reform him. Bullets fly, machetes slash through the jungle, suckers get fleeced, men win and lose fortunes, and maybe – just maybe – true love triumphs before the final curtain is rung down. But what sort of woman does it take to best the world's slipperiest con man? All I can say is.just you wait and see."