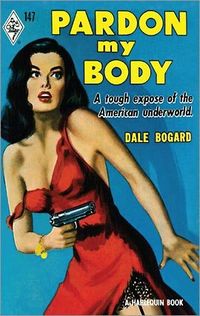 Harlequin seems to be tripping over itself lately with one public relations blunder after another. First, they start up a vanity press program and use the editors of their traditional publishing imprints to recommend it to all their rejected authors. As if that wasn't bad enough, they've just re-released a series of vintage pulp paperbacks from their archives…but edited out anything they thought might be too sexist, racist, or politically incorrect for a contemporary audience.  The editor of the project, Marsha Zinberg, says:
Remember, our intention was to publish the stories in their original form. But once we immersed ourselves in the text, our eyes grew wide. Our jaws dropped. Social behavior—such as hitting a woman—that would be considered totally unacceptable now was quite common sixty years ago. Scenes of near rape would not sit well with a contemporary audience, we were quite convinced. We therefore decided to make small adjustments to the text, only in cases where we felt scenes or phrases would be offensive to a 2009 readership.
Naturally, this idiotic censorship hasn't gone over well, especially considering how sexually explicit, violent and sexist Harlequin titles can be nowadays. Vintage paperback collector Steve Lewis, a well-known historian of old pulps, was justifiably outraged. He wrote:
This business of sheltering our eyes from things you think might offend us now is absolute nonsense. Who do you think we are, a bunch of weak-kneed sissies? Even if it makes us uneasy every once in a while to look at our past, history IS history, and it's ridiculous to try to cover it up.
Please do us a favor, and keep publishing your X-rated romance novels, and leave the mystery and noir genres well enough alone. You say you're delighted to have been able to reprint these books. I think you should be ashamed of yourselves, trampling on the work of others, especially when (as far as I can tell) it's been done without their permission.
Another collector of vintage paperbacks wrote:
Are these slap-happy bitches kidding? So I suppose it might be fine to edit out, or even re-shoot, scenes of guys smackin' dames and dolls in The Big Sleep or a Robert Mitchum classic? How about The Big Valley, that S/M TV western?
Does this also include spanking? Do no Harlequin romances contain rough sex where women like to be slapped during a hard bang, or have rape fantasies in the dark hearrt of the urban sprawl?
Had Harlequin finally decided not to reprint material it deemed offensive, I wouldn't have minded – more adventurous publishers might have taken the relay and it was just fine.
But this is not what Harlequin chose to do, instead they decided to butcher books from another era to make them palatable to modern readers deemed too stupid or too sensitive to tackle "hot stuff" from the past.
Why bother reprinting vintage paperbacks if you are going to butcher them first? Isn't the charm, popular appeal, and historical significance of the books that they do reflect that grammar, writing styles, and social attitudes of a different time? Did they really think that censoring the books would be a selling point? Oh, wait, I get it.. they were hoping to tap that vast, under-served audience that has been waiting for somebody to publish censored, vintage paperbacks.
Between the vanity press venture and this censored book line, I have to wonder… is Harlequin truly oblivious about why people object to censorship and unethical conflicts-of-interest? Or are they fully aware of the the issues… and just don't care?