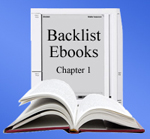 There's a new website — Backlist Ebooks — launched by Patricia Ryan and Doranna Durgin that's devoted entirely to previously published, out-of-print books that the authors themselves have made available again on the Kindle. 
Backlist Ebooks is comprised of print-published authors who have re-released our out-of-print backlist titles as reasonably priced ebooks. Our authors include NYT and USA Today bestsellers, as well as those who have won major literary awards–including the Hugo, Nebula, RITA, Romantic Times and more.
You'll find my books there, as well as titles by Julie Ortolon, Lillian Stewart Carl, C.J. Cherryh, Karen French, Libby Fischer Hellman, Patricia Rice and many more. New authors are added everyday. You can also check out Backlist's Facebook page for the latest news.