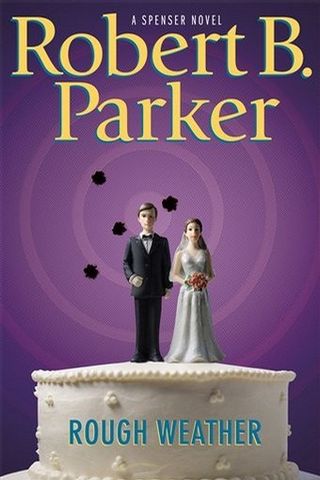 Let me start by saying, once again, that I consider myself a Robert B. Parker fan. When he's on his game, there's nobody better.
But ROUGH WEATHER is, by far, the worst Spenser novel yet. It's not the worst book Parker has ever written, but it's pretty close to it.  
The story kicks off with Spenser and Susan attending a wedding on a private island that turns into a violent kidnapping. Not a bad teaser into the story, except that neither Spenser, Susan, nor anyone else seems to react much to the extreme violence that they witness. From that point on, the story becomes almost entirely expositional, falling into a pattern that goes something like this:
1) Something happens, though the "something" is usually just a dull, expositional conversation between Spenser and someone else (and if it's a woman, she'd desperately like to sleep with him but he declines).
2) Spenser tells someone else about what happened.
3) Spenser tells someone else about what happened.
4) Spenser discusses what happened again with someone else, or with a group of people.
5) Spenser has another conversation with someone.
6) repeat scenes 2, 3 and 4.
7) Someone tries to beat up Spenser, but the someone is woefully ill-suited for the task and Spenser casually kicks his ass.
7) Repeat scenes 2, 3 and 4.
8) Someone tries to kill Spenser, but Spenser easily kills them first and/or takes prisoners.
9) repeat scenes 2, 3 and 4, and then repeat them again for good measure, since someone got killed or captured.
There are two set pieces — the kidnapping and an attempt on Spenser's life — and the rest is flat exposition. There's more sitting around and talking in this book than in a Nero Wolfe. The plot is obvious, there isn't a single surprise or twist.  The book ended abruptly with the bad guy coming in and simply telling Spenser what we, the readers, have already guessed a dozen chapters earlier. It's like Parker just got tired of writing and arbitrarily decided to stop.
Spenser doesn't actually have to get out from behind his desk in the finale, which is yet another scene of people sitting around and telling us what we already know. Spenser doesn't do anything, or really solve anything. The one benefit is that the book is short, maybe only 35,000 words, if that, so just when you're thinking about giving up, it's already over.
I think this is going to be my last Spenser novel. Parker is a very frustrating author. At times he's great (check out APPALOOSA, DOUBLE PLAY, the early Spensers and the early Jesse Stones) but lately, with the exception of his westerns, he just seems to type. 
I honestly believe if anybody besides an author of Parker's stature and success had turned in a book to an editor as sloppy, dull, and thin as ROUGH WEATHER, it never would have been published.