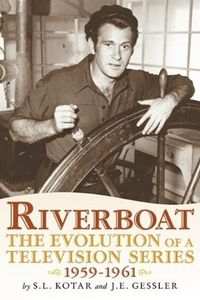 I can't resist buying books about the making of TV shows, even series I never watched or don't care for much, because I always learn something from them. Bear Manor is a small, niche publisher that churns out a lot of these books. The quality of the writing and research on the books is very hit-and-miss, but Bear Manor deserves a lot of credit for even bothering to print them. They're just about the only publisher out there turning out books on obscure and vintage TV series at an affordable price (one piece of advice, though, never buy a book about a TV series by James Rosin, you can always count on them to be awful).  
I particularly enjoyed Riverboat: The Evolution of a Television Series 1959-1961 by S.L. Kotar and J.E. Gessler, which chronicles the development and very short life span of the western, which starred Darren McGavin (at the same time he was starring in Mike Hammer) and Burt Reynolds. McGavin played the captain of the Enterprise…no, not the starship, but the riverboat…and Reynolds was his pilot. The two characters didn't get along and, as it turned out, neither did the actors. Reynolds was forced out after the first season.
Most books of this sort are written by diehard fans and read like the slobbering labors of love that they are. But this one is different. The authors are diehard McGavin fans, and did all this research as part of their website devoted to the actor, and while they admire the him, they aren't so wild about the show.  They take a very, very critical eye.  The show never found its footing conceptually, and an unusually high turn-over of writer-producers seemed to doom it from the start…
The writing, too, was a mixed bag of (over)experienced and novice writers. Most of the episodes were little more than standard Wagon Train plots transported to a riverboat setting.  Few particularly stood out as rising above the rest, and as a whole, they failed miserably to create any significant characterization for [McGavin's character] or the crew. […]nothing rose head-and-shoulders over routine TV fare. Considering the premise, and Darren McGavin, this was disappointing to say the least. 
And that's the nicest thing they have to say about the series. So you might be asking yourself — if the show was so mediocre, why write a book about it? And why should I read it? Well, if you are a student of TV as I am (even after writing and producing many TV series myself), it's always fascinating to read about the development, production, and fate of a show. And the authors don't skimp on details. The episodes are analyzed in depth and the authors add interesting asides about production. The book is also chock full of rare, never-before-published production stills.  If you are a Riverboat or McGavin fan, you're going to love it.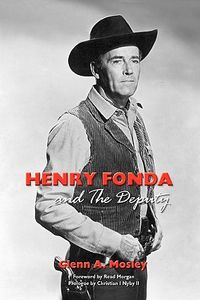 On the other end of the spectrum is Henry Fonda and The Deputy by Glenn Mosley. The 1959 series starred Fonda, then a major movie star, as U.S. Marshal and was created by Norman Lear and Roland Kibbee, who would go on to great success themselves. But despite the hoopla surrounding Fonda's decision to do a TV series, it was something of a bait-and-switch.  He only appeared as the lead in six of the first season's 39 episodes and did cameos in the others. Most of the screen time was filled by Allen Case as his deputy. But viewers weren't tuning in to see Case and felt cheated…and rightly so.  Fonda upped his participation to twelve episodes in the second season, but it was too late (though the network was supposedly willing to go for one more season).
The book has some good information, but it's barely more than a magazine article padded out into book-length with actor biographies (which repeats lots of information already conveyed) and a very thin episode guide.   If you're a big fan of The Deputy,  you'll be disappointed by the lack of substance to this book. And if you've never heard of the show, there isn't anything here to really make it worthwhile to learn more. 
Finally, there's Rawhide: History of Television's Longest Cattle Drive by David R. Greenland. The book is loaded with details on the development and eight-season run of the classic western series, which was created by Charles Marquis Warren (who also brought Gunsmoke to TV from radio and produced the early seasons) and made a star out of Clint Eastwood, who was second-lead behind Eric Fleming.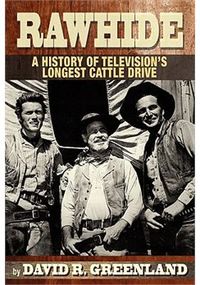 The author delves deeply into the professional and personal backgrounds of producer Warren and actor Fleming, so that you're able to put their creative clashes into a broader perspective. Naturally, that squabbling had an impact on the show in many ways, and Greenland explores them all.
After Warren left, the show changed hands several times. Greenland closely examines how the show changed creatively, and why, under the subsequent show runners.
 I found it fascinating reading, but once the author got into the obligatory actor bios and episode guide, I found myself skimming the rest. 
You don't have to be a fan of Rawhide to enjoy this book (I've only seen four or five episodes of the show in my life). It's worth reading to learn how this series was developed and produced and how it evolved…and it's fascinating to see just how little TV series production, at least behind-the-scenes, has changed in fifty years.